How it all started
Those of you that know Joe Pulizzi know that he epitomizes the "go big or go home" mentality. In his work life, in his family life, in his orange-clad living, and most certainly in his life of serving others. As does Pam Kozelka and their two children, Joshua and Adam.
Years ago, the Pulizzis started the CMI Golf for Autism, which, in 8 years, raised over $100,000 for the Easter Seals of Northern Ohio, earmarked for their speech services and related programs. Many of our content marketing and Cleveland community members have participated in this year after year – so thank you!
The Pulizzis are passionate about this cause, because early speech therapy intervention helped their oldest son Joshua become an independent, bright and well-spoken young man.
This was Joshua speaking at the golf outing six years ago – and wow, what a long way he's even come since this day:
This past August 10th marked the 9th annual event, which this year directed all proceeds to Joe and Pam's latest passion, The Orange Effect Foundation.
What is The Orange Effect?
The Orange Effect Foundation's mission is simple: Empower children and young adults with speech disorders to effectively communicate through therapy, education, research and technology resources.
By creating a foundation, Joe, Pam and the board members are now able to have the great privilege of disbursing funds to not only the Easter Seals, but also other programs, services and people that need speech therapy funding and don't have the means.
What does this mean for Content Marketing World? 
This is where the GO BIG comes in. We're having a fundraiser at Content Marketing World 2015 selling blocks for $50 each. Each of the 2,000 blocks sold can be personalized either online in advance, or on site. The blocks will all be assembled to create an (orange) masterpiece of hope.
Honor a friend, loved one, neighbor or family member by donating in their name. Or simply join in on the cause, as our industry and community join forces to make a powerful difference in the lives of young adults who will someday be incredible storytellers because of us. Let's do this. Can we sell all 2,000 blocks? Who is in?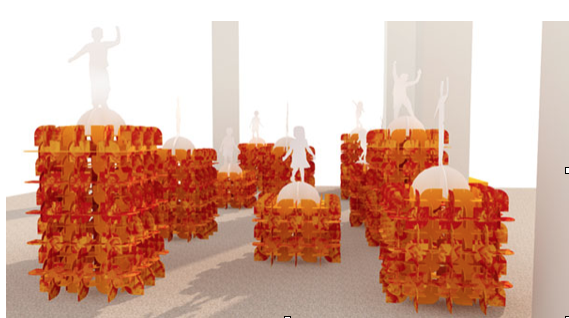 The details:
Donate online before the event, and upload text or a photo – this is the best option so we can start building the structure right away!
Donate on-site (no text or photo option, but you can write a message on your block)
Share with CMWorld friends and BEYOND! This is not limited to attendees only.
Donations are 100% tax-deductible. The Orange Effect is a 501c3 organization.
Simply put, thank you. We are a stronger community because of you. Let's be the building blocks for some incredible change.
Would you like to be more involved with The Orange Effect? Let us know – we'd love to have you with us on this journey.
Posted August 22, 2015 in: Event by Cathy McPhillips
---