Content Marketing World is part of the Informa Connect Division of Informa PLC
This site is operated by a business or businesses owned by Informa PLC and all copyright resides with them. Informa PLC's registered office is 5 Howick Place, London SW1P 1WG. Registered in England and Wales. Number 3099067.
The Role of Privacy in Marketing: A #CMWorld Twitter Chat with Ruth Carter
During a recent CMI webinar, Lynne Capozzi shared insights from an Acquia survey. The brand found trust and data sharing is a problem, but customers are willing to exchange data for good experiences. Marketers, our work is not done.
55% of respondents either don't know or aren't sure how brands are using their data.
65% of respondents either don't know or aren't sure even which brands are using their data.
How content marketers can keep up with changing regulations and remain compliant were the some of the topics covered on a #CMWorld Twitter chat. Special guest Ruth Carter addressed the growing emphasis of privacy in marketing. Read on for highlights, and be sure to visit our Twitter Moment for more tweets from the chat.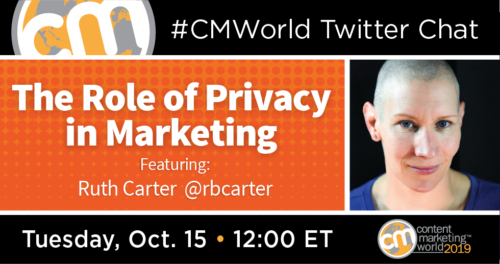 Is it possible to be a responsible content marketer and still use data to inform the ways we interact with our customers? What are some ethical considerations?
Brands are making strides in compliance, but there are still risks. What are some potential missteps marketers must be careful of when it comes to consumer data?
How can a privacy policy help? Is it better to have a global policy or separate procedures that address each law?
Navigating the privacy law waters is complicated. Need a bit more guidance? Ruth is here to help.
Thanks to our community for contributing to a great discussion!
Our Post-Show Video Access includes a comprehensive collection of Content Marketing World presentations. Watch Ruth's session and that of 100s of other speakers when you purchase your package today.
Posted October 16, 2019 in: Event by Monina Wagner
---
UP