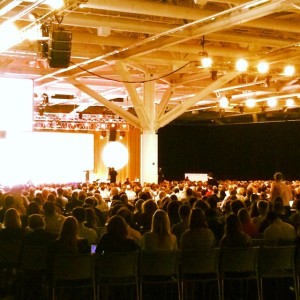 This guest post submission is from: Josh Bland, Associate Technology Analyst, TechnologyAdvice
Joe Pulizzi, Founder of the Content Marketing Institute, was a recent guest on the TechnologyAdvice Expert Interview Series to share his insight on the intersection of sales, marketing, and technology. The series, which is hosted by TechnologyAdvice's Josh Bland, explores a variety of business and technology landscapes through conversations with industry leaders.
In this episode we discuss the three-legged stool of content marketing and the importance of an on-going series, as well as campaign-based advertising and marketing.

Below are a few highlights from our conversation:
TechnologyAdvice: What was the thought behind Content Marketing World?
Joe Pulizzi: I come from a publishing background, so I look at things differently. Here's my view: if you look at the greatest media companies of all time, how do they set up their community? They do it through the three-legged stool. You have a digital component, such as a digital marketing platform. You have a print platform, and you have an event in-person platform. And if you look at ESPN, look at New York Times, look at Washington Post — they all have this. This is how they created their community and position themselves as the expert.
In September 2010, we quickly realized we were building a platform for the blog, but there was this community need to get together. There are content champions and companies who need to get together. They want to talk about challenges with other people who are dealing with similar challenges. So a lot of people think the number one reason you would go to an event is education. And while it's very important, it's not the number one reason.
The number one reason for attending a conference is to network and to meet people like me. That's the thing that just wasn't available. It was happening in pockets here and there — previously we had small workshops and things like that — but there wasn't one big event. So in 2011 we launched. We were expecting 100 to 150 people to show up in Cleveland in September, we got 600. And we said, "Hey, this might be something." And now we're up to over 3,000 which is fantastic.
And what I love about it, maybe my favorite thing — outside of having the John Cleeses and the Nick Offermans of the world coming and showcasing — is the fact that people could meet with each other and they keep those relationships going. And we feel like we're really part of a community that's trying to advance a practice that a lot of people don't know how to do very well.
TA: What are you most looking forward to this year? What do you think someone like Nick Offerman could potentially offer to content marketers out there?
Pulizzi: Well there's a couple of things about Nick, and we were looking at having him for a long time, so it'll be interesting to see. Comedians do well, maybe better than anyone else because they already have a really good feel for the audience.
What does the audience need to hear? What are we trying to do?
We inspire them, teach them something, and they do that through different stories throughout their presentations. If you read his books, he really talks about this idea of creating your own individual path. And I love that message because that's what brands need to hear.
Head marketers need to hear that it's not new to marketing. Because we have a direct communication line with our customers, this is the time we can actually tell our own story. And if that story is really compelling, it can actually help our business. We don't think about it that way.
Let's say that there was no more market — like no more traditional marketing. We just woke up tomorrow, we had a clean slate. What would we do? Would we actually wait for people to build audiences and then create advertising and interrupt that audience and say, "Oh no no, don't engage in the content you really want, look at my ad, or look at me over here."
No, we would absolutely create our own audience. We would try to develop our own subscriber base and audience base. And I just think that because we've been doing this targeted mass media thing for 50 years, we almost lost our way a little bit.
There's a 100+ great presenters with stories to tell. For example, Marriott put their flag in the ground and said, "We are going to be the leading media informational company in travel and tourism." That's amazing. If you think about how that's going to change their business model in the future — like it did for RedBull — I'd want to hear that story. And so do the other 40 brands struggling with this.
This podcast was created and published by TechnologyAdvice. Interview conducted by Josh Bland.
Join us at Content Marketing World this September 8-11, 2015. There is still time to register. Use code CMI100 to save $100 off current rates! Session selection has started – register early to secure a seat in the sessions you want!
Posted August 1, 2015 in: Event by Cathy McPhillips
---