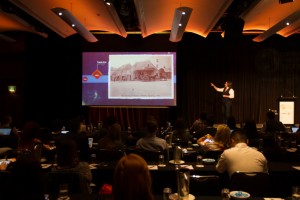 The month of March has been a busy one on the CMI event circuit, with Content Marketing Sydney, Content Marketing Singapore and Intelligent Content Conference all taking place within a 14-day period. Here are some insights from Sydney that are applicable to our Content Marketing World attendees. 
Guest blog post by Rakhal Ebeli
Virgin wombats, meatloaf odysseys and Aristotelian rhetoric – Content Marketing Sydney was far from your typical conference. As a former journalist who has embraced brand storytelling, the 4 days I spent with the CMI team in Sydney and Singapore has been a highlight of my journey into the industry some 18 months ago.
Bringing together the world's most exciting content marketers and storytellers, the event inspired an audience to radically change their approach to content marketing.
So, what does this look like? And – more importantly – how can a change of approach overcome endemic content marketing challenges?
While the answers to these questions are invariable nuanced, there are common solutions marketers can draw upon. For those unable to attend, here are the key takeaways on how to transform content marketing into, as Robert Rose described it, the blood that flows through a company and unifies it.
1. Challenge: Our content isn't effective
Research from the Content Marketing Institute shows that only three out of 10 marketers believe their content is effective. The question is – why?
The major problem, according to the presenters, is a failure to understand content as a commodity independent of a company's products and services. Too many marketers approach content as a campaign. Rather than make a commitment to a content strategy, they set out on short-term, frenzied content outbursts and are inevitably disappointed when they fail. More content does not equate to more value.
Building value requires marketers to look past the quarterly results. It requires commitment, buy-in from staff and an understanding of the bigger picture. The great challenge marketers face is switching from this campaign-based mentality to a longer editorial view. As Andrew Davis explained it, "Think of your content as an asset, not a marketing expense."
Solution: Think like a movie producer
The first step to creating effective content is to make a commitment. To avoid flat-lining content, business must look beyond the content campaign and to the content mission. They must, in the words of Andrew Davis, "think like a movie producer."
A movie producer builds a content brand – not branded content. Their aim is not to create successful one-off films but to create a production house that is respected and recognised for the value of its portfolio. As Andrew Davis explained, "Valuable content increases demand for the products and services you sell… Stop making campaigns and start making commitments to things that are bigger than you."
So, how can brands do this? Having made a commitment, brands need to create:
An editorial mission statement
An editorial calendar
A content marketing strategy
According to the Content Marketing Institute, marketers who have written strategy are 64 percent more successful than those who don't.
Case in point: Book Video Club 
The Book Video Club offers short video summaries of business books. The project is run by Board Studios, a New York-based video company specialising in business storytelling.
With the Book Video Club, Board Studios have successfully created a 'content club'.  The content is the asset. The videos demonstrate what Board Studios can do while providing a product that is sought after.
2. Challenge: Our content doesn't engage
"We need a blog!" – this, according to Andrew Davis, is how most content marketing campaigns begin – and fail. Engaging content is not a box to be ticked. It is not an afterthought or quota to be met.  Engaging content puts the story first.
But, as the speakers of Content Marketing Sydney explained, many marketers struggle with this concept. They plan tactics (blog), then create content (posts), then set goals (likes/shares). This process produces content on auto-pilot. Every Monday there is a new post, but who is reading it? Is it providing any value? And does it push customers along the path of purchase?
In most cases, the answer is no. Content for content's sake does not work. It is the story that counts. Blogs, videos, podcasts have no meaning except as vehicles for ideas. For marketers used to thinking in terms of 'print campaigns' and 'digital campaigns', this can be a challenge. In order to create engaging content, marketers must shift their perspective, they must become journalists, storytellers, educators.
Solution: Put the story first 
Simply put, the story comes first. As Robert Rose explained, "We don't have to have a million good ideas. We have to have a few good ideas that we can execute excellently."
Instead of flooding all possible channels with content, brands should focus on creating high-quality, relevant stories that their customers actually want to read. While this may seem like an obvious conclusion, it can be harder to put into practice.
After all, where do good story ideas come from? How can brands cut through the white noise? Here are some great starting points taken from the event:
Talk to your sales team to find out what are the most common customer queries
Research Google Keywords to find out what your customers are searching for
Take on a familiar subject with a different angle
Create content your customers can emotionally invest in
Appeal to who your customer's aspiration 
Case in point: Zombie Apocalypse Survival Guide 
Produced by IT company SunGard, the Zombie Apocalypse Disaster Recovery/Survival Guide was a highly successful e-book and email campaign designed to sell disaster recovery services.
With lines like, "We haven't heard from you in a while. Are you among the walking dead?" the Guide playfully appealed to clients to seek out their products and services.
Not only did it provide a fresh perspective, it let the story inform the medium and design of the campaign. Blood-splattered backgrounds and bullet graphics gave life to the story.
As storyteller Justin Crossman pointed out, the e-book design could not have come before the story.
3. Challenge: Our content doesn't convert
Perhaps the greatest challenge is measuring if and how content marketing delivers return on investment.
The question of conversion is difficult for many reasons. The first is time. According to Joe Pulizzi, the average time to get a business result from content marketing is 15 months. In terms of website traffic, SEO expert Arnie Kuenn believes it takes on average 6 months "before content receives an organic lift from Google." 
ROI is not instant. This can be a very difficult for marketers and business to accept. As Arnie explained, "It takes courage to give away something of value without the expectation of immediate return."
The second is false metrics. Many marketers mistake page impressions, Facebook likes and other social media ratings as signs of success. Unfortunately, a 'like' is not the same as a sale. By using these metrics, marketers can build their social media presence, increase web traffic and extend their reach – without producing business results.
Solution: Target 'better' audiences
The best way to overcome this challenge is by building loyalty. As Joe Pulizzi explained, "We need to build the audience or nothing else will happen".
This is where granular marketing comes into play. Brands must narrow the target market. Andrew Davis advises, "Stop being everything to everyone and start being something to someone." Effective content marketing is targeted, it speaks to what specific consumers want and need. This approach produces 'better' audiences – an audience that subscribes, buys and evangelises the brand. The point, in the words of Robert Rose, is "to create more valuable clients not more leads in the pipeline."
Getting clients in the "loyalty loop" and measuring success by subscribers – not shares- is the secret to converting content. 
Case in point: Lauren Luke 
Andrew Davis called upon the example of make-up artist Lauren Luke to illustrate the importance of loyalty. Lauren Luke began selling make-up products to supplement her income as a London taxicab dispatcher.
At first her products did not sell. She then decided to targets teenagers and began producing simple tutorial videos on how to create 'celebrity looks'. The videos were hugely popular. Suddenly, there was an audience i.e. a market. Today her brand is worth 100 million.
As Andrew explained, "Build a relationship with your audience before or so they need you."
Content Marketing World has been an eye opening experience for me. High energy speakers matched their enthusiasm with practical tips and insights, and I'm excited to see where things will be at come Cleveland in September! 
Find out more about Content Marketing World, being held in Cleveland September 8-11, 2015. Register today and use code CMI100 to save $100.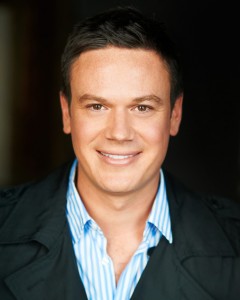 Rakhal Ebeli is managing director of Newsmodo. An award-winning journalist and presenter, Rakhal founded global journalism agency Newsmodo (newsmodo.com) in 2012. Since then, the company has grown to become the largest network of freelance media professionals, who can be engaged by brands and publishers to create high quality content and coverage. He also co-hosts The Brand Storytelling Podcast: http://ow.ly/KnwrI
Posted March 27, 2015 in: Event by Laura Kozak
---