What do you think of when you hear "Connections?" Lots of things come to mind. Internet connections, business connections, Connect Four, or my personal favorite "Rainbow Connection" from The Muppet Movie.
For our content marketing community, the word CONNECTIONS means: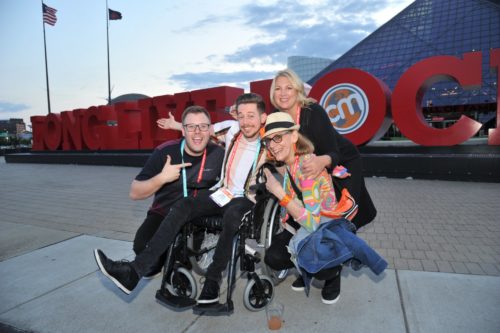 Community connections: We are at our best when we're together, whether that be helping, listening, offering advice, sharing stories, being there on good days and bad, and in many instances, partnering with each other – turning those community connections into…
Business connections: The best content marketers know that we can't know and do it all on our own. We hire an SEO specialist, a subject matter expert, an editor, a designer, an analyst and/or data scientist to help us sift through mounds of data, a tech solution partner to help us work faster and smarter, or we find an agency to help us where we have some gaps in our teams.
Customer connections: Our biggest goal as content marketers is to connect with our customers. Sure, we want that lead, that conversion or that sale. But we know that every engagement can't be about revenue – it needs to be more meaningful because we want this connection to last well past that one purchase.
Connections through content: How rewarding is it when you produce a piece of content that resonates with someone so deeply? Our content needs to show that we've taken time to learn about our customers, their wants and needs, and even answer questions they didn't even know they had. We need to be relevant, timely, and helpful. It's all about building trust.
Connected content: How can we do more with our epic content? How can we make sure our content is being consumed, read, viewed, or listened to? We need to find ways to connect our videos to our blog posts, our livestreams to our website, our content to our social channels. We need to make single-use content a thing of the past. Can we start a "sustainable content" movement?
CMWorld connections: This might be our favorite connection of all – seeing our community together. Seeing our industry peers, #CMWorld Twitter chat participants, Slack group friends, Book Club members, first-time attendees, media partners, technology innovators and more. This is the year we're going to connect and reconnect with each other…and we have to tell you, it's what has us most excited and hopeful for later this year.
We're also going to help YOU connect with your customers, technology partners, and more. We're going to help you have opportunities to meet your next manager, your next hire, your next conference buddy, your next accountability partner, and more.
Let's connect at Content Marketing World 2021. We're connecting digitally and in Cleveland (we're planning on it and watching everything very closely). Whether in person or from your laptop, we want to see you!
Content Marketing World 2021 registration is now open! Early Bird rates are in effect until June 25. Secure your in-person or digital pass today!
Posted February 8, 2021 in: Event by Cathy McPhillips
---