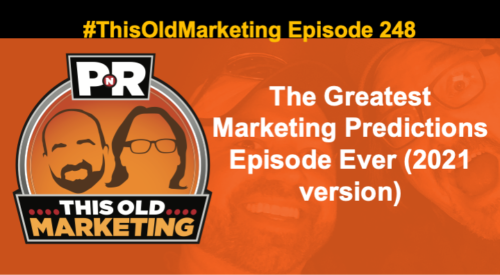 It's a very special episode of PNR This Old Marketing. Their big marketing predictions show is here! Joe and Robert start with the latest news. (Yes, it includes Quibi.) Then the guys head straight into what they think 2021 will hold.
Enjoy the show!
Recorded live October 29, 2020; Length: 1:05:26
Notable News
(14:30) Will this be Robert's last Quibi update? Because after six months, Quibi is shutting down. (Source: The Wall Street Journal)
PS, you too can own Quibi swag.
The Deep Dive
A listener suggested Joe and Robert talk about the future. They have some fun predicting what's to come.
(32:10) Will the MarTech vendor landscape grow, shrink or stay flat?
(38:41) What's going to differentiate the content winners and losers next year?
(46:41) What will be the biggest acquisition in 2021? (And Robert asks if we can finally put the Apple-Disney purchase to bed?)
The Show Sponsor
(51:49) Find out why attendees come back to Content Marketing World, year-after-year. Purchase your post-show pass today. Get Joe and Robert's keynotes on-demand and have access to over 100 breakouts. Trust us, you'll want to make plans for 2021 after watching the event!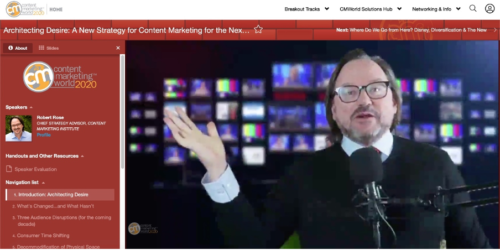 Rants and Raves (With a Twist)
(53:45) Joe discusses what the future on in-person events look like. PS He hates his prediction.
(56:14) You know it wouldn't be PNR without football talk. Here, Joe predicts something he says will come true in 2021.
(58:10) Robert talks about the pandemic and hates he even has to make this prediction.
(59:37) Robert thinks we'll see a Renaissance year for content marketing in 2021.
Until the next episode, be safe and healthy, PNR friends.
Subscribe to PNR: This Old Marketing at Apple Podcasts, Google Podcasts, Stitcher, iHeartRadio, Spotify,or wherever you listen to your favorite shows.
Sign up for Joe's Random Newsletter at JoePulizzi.com. His new book, Corona Marketing, is now available. Follow him on Twitter @JoePulizzi.
Look for Robert's newsletter at The Content Advisory. Follow him on Twitter @Robert_Rose.
Posted October 30, 2020 in: Event by Monina Wagner
---