In this episode #223 of #ThisOldMarketing, Joe and Robert go inside Peloton…discussing the ad, the aftermath and what might happen to the brand in the future. Robert believes many mistakes were made, but the public's reaction was a pure overreaction. Joe thinks that we can't judge the outcome until the next quarter's results are in.
Leave a note in the comments – what do you think of the backlash? Also, did you see Content Marketer of the Year finalist Ryan Reynolds' and Aviation Gin's fast move after the Peloton ad? He talks to Jimmy Fallon about it:
In other news, the boys dissect the #SubscribeSunday program from Boston Globe, and how brands can use both an "event" and a collaborative effort to launch and grow content marketing initiatives.
Finally, Joe and Robert discuss the huge opportunities and challenges for brands who want to acquire distressed media assets.
In rants and raves, Joe raves about Straight No Chaser – one of his family's favorite groups. Check out one of their first performances:
…while Robert rants on California's upcoming privacy law (CCPA). Says the Digiday article, "The major ambiguity facing companies is how the CCPA's broad definition of a "sale" of data applies to digital advertising." Listen to what Robert has to say, then dig into Ruth Carter's website containing this chart: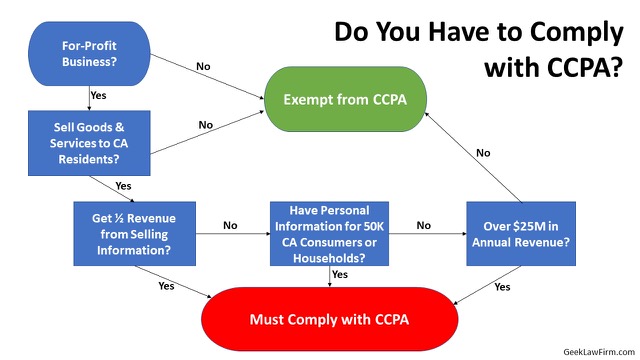 If you're not already, subscribe to PNR: This Old Marketing at Apple Podcasts, Stitcher, iHeartRadio, Spotify, Soundcloud, YouTube, or wherever you listen to fine podcasts.
Subscribe to Joe Pulizzi's Random Newsletter at JoePulizzi.com and find Joe on Twitter at @joepulizzi. Joe's new #thriller is now available at TheWilltoDie.com.
Subscribe to Robert Rose's newsletter at The Content Advisory and follow Robert on Twitter at @Robert_Rose.
This episode is sponsored by ContentTECH Summit, CMI's content, technology and strategy event taking place in San Diego in April Register today!
Posted December 19, 2019 in: Event by Cathy McPhillips
---