In episode #225 (the Happy New Year episode) of #ThisOldMarketing, Joe and Robert look at the advertising industry, and whether a "move" away from smartphone usage will hurt digital ads (uh, not really). Hint: see below via emarketer: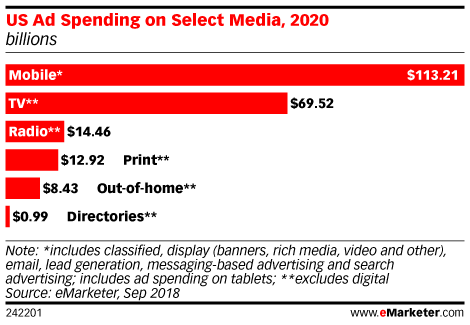 Facebook says it will ban artificial intelligence "deepfakes," but will it make a difference since Facebook isn't changing its policy on cheapfakes or shallowfakes?
The annual Consumer Electronics Show (CES) happened last week. Joe and Robert discuss some of the main questions from the CES show. Were you there? Did you read anything about the show? Leave us a message on Twitter and hashtag #ThisOldMarketing to continue the conversation.
And finally, Coca-Cola reverted back to having the CMO role. Robert is happy, but Joe thinks it's all show and no bite.
In rants and raves, Joe covers an ANA article about B2B Content Marketing while Robert raves about Buzzfeed's new business model.

Source: WNIP
That's all for now! Leave a comment here on the blog, or find Joe and Robert on Twitter.
If you're not already, subscribe to PNR: This Old Marketing at Apple Podcasts, Stitcher, iHeartRadio, Spotify, Soundcloud, YouTube, or wherever you listen to fine podcasts.
Subscribe to Joe Pulizzi's Random Newsletter at JoePulizzi.com and find Joe on Twitter at @joepulizzi. Joe's new #thriller is now available at TheWilltoDie.com.
Subscribe to Robert Rose's newsletter at The Content Advisory and follow Robert on Twitter at @Robert_Rose.

This episode is sponsored by ContentTECH Summit, CMI's content, technology and strategy event taking place in San Diego in April.
Posted January 16, 2020 in: Event by Cathy McPhillips
---