In episode 226 of #ThisOldMarketing, Joe and Robert dissect an intriguing report by the World Economic Forum on the future of jobs. In it, the WEF predict that sales, marketing and content jobs will be among the most plentiful. See the graph below, and page 9 of the report.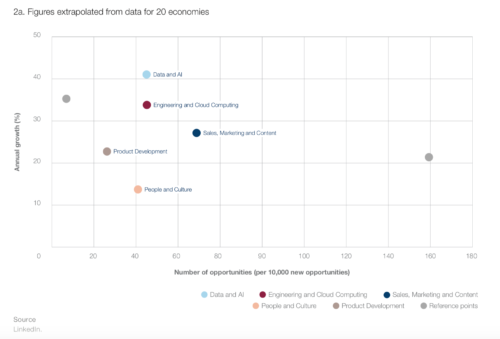 In other news, the death of the cookie (as declared by Google) is big news for advertisers, publishers and content marketers. Who will win? (Joe and Robert tell you)
Finally, the boys break down the success of new media companies turning profitable, and what marketers can learn.
In rants and raves, Joe raves about the Unauthorized Biography Series and Loserthink by Scott Adams. Robert then talks in detail about the life and death of Clayton Christensen. If you missed episode 55 of the Weekly Wrap, jump over to Robert's other podcast where he talks about Christensen.
If you're not already, subscribe to PNR: This Old Marketing at Apple Podcasts, Stitcher, iHeartRadio, Spotify, Soundcloud, YouTube, or wherever you listen to fine podcasts.
Subscribe to Joe Pulizzi's Random Newsletter at JoePulizzi.com and find Joe on Twitter at @joepulizzi. Joe's new #thriller is now available at TheWilltoDie.com.
Subscribe to Robert Rose's newsletter at The Content Advisory and follow Robert on Twitter at @Robert_Rose.
This episode is sponsored by ContentTECH Summit, CMI's content, technology and strategy event taking place in San Diego in April Register today! Early bird rates end 2/14, plus code PNR100 saves an extra $100.
Posted January 30, 2020 in: Event by Cathy McPhillips
---