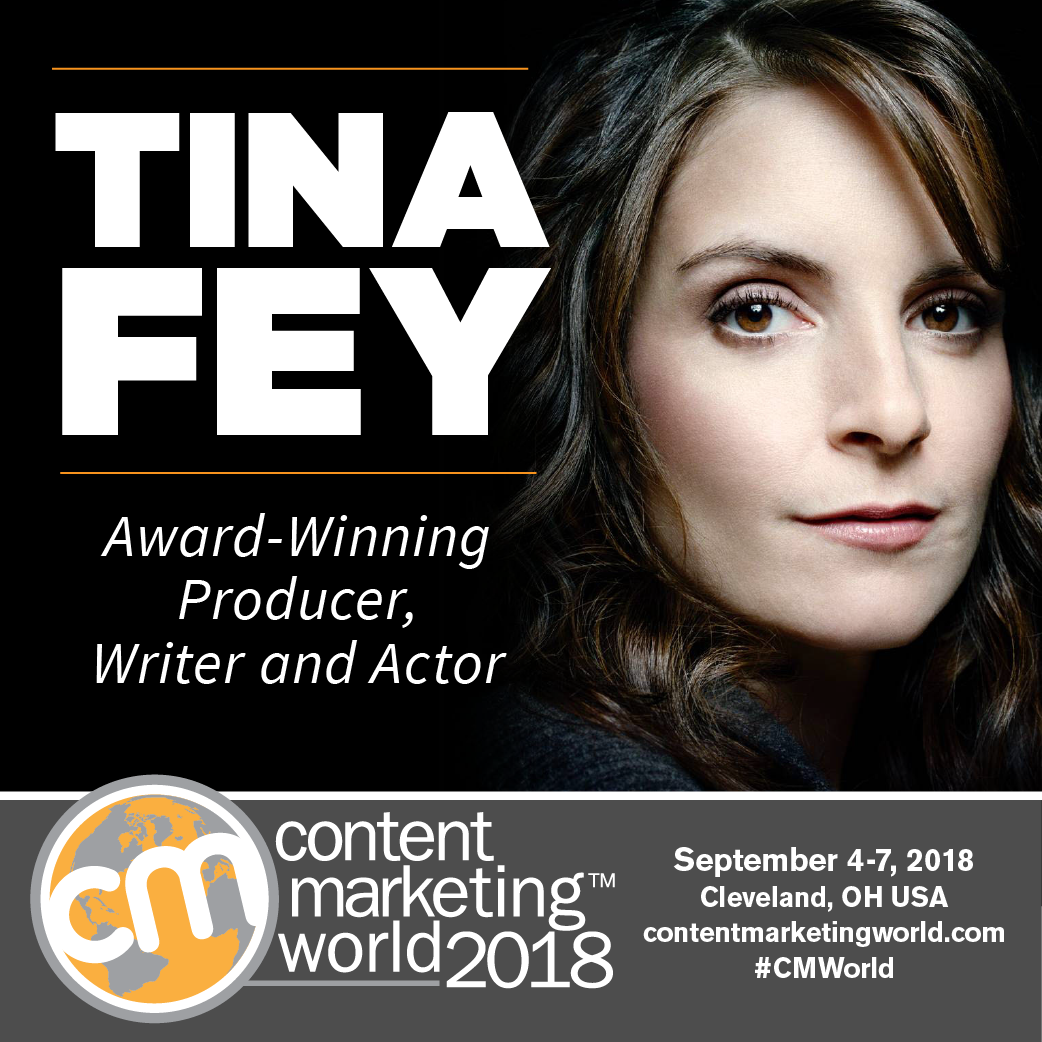 If you're a reader, a fan of Mean Girls, Saturday Night Live and/or 30 Rock, a parent, love a good laugh, or all of the above, then you're going to love our big news. YES…Tina Fey will be headlining Content Marketing World 2018!
Tina Fey, an incredible:
9x Primetime Emmy Award winner
2x Golden Globe winner
5x Screen Actors Guild Award winner
4x Writers Guild of America Award winner
AP Entertainer of the Year
Mark Twain Prize-winner for American Humor
…will be in Cleveland on September 6, 2018 to close out an incredible week at Content Marketing World 2018.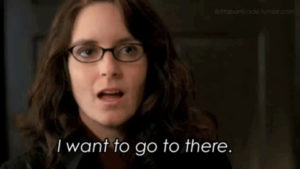 Before you say "I want to go there" and jump over to the Content Marketing World registration page, let's chat a little bit about the genius that is Tina Fey.
Far beyond her gif-worthy character Liz Lemon, or her award-winning depiction of Sarah Palin, the slapstick and physical comedy, or the multitude of other characters she has played in TV shows and film, Tina Fey is much more than the laugh-producing actor you see on the screen and love and relate to so much.
We already know this about Fey: She's earned an Emmy, two Golden Globes, four SAG Awards, and a People's Choice Awards for her role as Liz Lemon on 30 Rock, the critically acclaimed NBC series, that she created. Prior to 30 Rock, she was the first female head writer of Saturday Night Live, before she made the transition to the front of the camera. That's where she became famous for her role as co-anchor on SNL's Weekend Update – both award-winning and groundbreaking – and who could forget her parody of Former Governor Sarah Palin during the 2008 presidential election?
Fey also wrote and starred in the hit cult film, Mean Girls, which made its debut as a Broadway musical this year. She's starred in other popular films including, Whiskey Tango Foxtrot and Sisters. She's the creator and co-executive producer of the Emmy-nominated Netflix original comedy, Unbreakable Kimmy Schmidt. (One of my favorite shows!) Fey was also the youngest recipient of the Mark Twain Award for American Humor in 2010 and she's a New York Timesbest-selling author for her book Bossypants.
But what can she teach a convention center full of content marketers? Let's look at a few of her quotes and how we can relate to them for our industry:
 "It's a great lesson about not being too precious about your writing. You have to try your hardest to be at the top of your game and improve every joke you can until the last possible second, and then you have to let it go. You can't be that kid standing at the top of the waterslide, overthinking it…You have to let people see what you wrote." ~ Tina Fey
CMI and many content marketing industry leaders, many of which will be at Content Marketing World, have expressed time after time that if you wait until your content, your website, your targeting, your strategies are perfect, you'll never actually do anything. "Of course, we need to try, we need to make educated decisions based on analytics, and we edit our writing and have someone else edit it again," says Stephanie Stahl, General Manager of CMI. "But then, we have to trust ourselves and our work, and improve the next time around."
"If you want to be a screenwriter, take an acting class to get a sense of what you're asking actors to do. Learning other skills will help you communicate with people and respect what they do." ~ Tina Fey
In this integrated communications world we now live in, understanding what our counterparts and colleagues are doing will help us do our jobs better. Silos continue to be torn down, not only within marketing, PR and advertising, but also with IT, editorial and customer service.
Do your thing and don't care if they like it. ~ Tina Fey
Content marketing and storytelling is about sharing YOUR story. As Joe Pulizzi says, it's "creating and distributing valuable, relevant, and consistent content." As he says in his book Content, Inc.,you need to find your sweet spot and your content tilt and build your audience base. You can't be everything to everyone, so by finding your niche and your tilt, you can do your thing and appeal to the right audience. And then don't worry about everyone else.
And we wanted to leave you with a clip of Fey's SNL appearance last August on Weekend Update. Have you missed her on Weekend Update too?
We hope you can join us in September at Content Marketing World as 250 marketing practitioners and industry speakers from all over the world help us fine-tune our own disciplines of content marketing, and the brilliant Tina Fey inspires us by telling us stories about her own storytelling.
In the comments, let us know why you're excited for Tina Fey, what question you'd ask her, and what, in her storied career, have you enjoyed most. This will be fun!
Posted July 19, 2018 in: Event by Cathy McPhillips
---