Content Marketing World is part of the Informa Connect Division of Informa PLC
This site is operated by a business or businesses owned by Informa PLC and all copyright resides with them. Informa PLC's registered office is 5 Howick Place, London SW1P 1WG. Registered in England and Wales. Number 3099067.
Tips for Delivering Effective Presentations with Andrea Larick
Getting up in front of an audience is difficult. Making a lasting impression is even harder. There is no single formula for a great presentation. There is no magic pill to turn you into a great speaker overnight.
Don't stress. This week's #CMWorld Twitter chat was filled with tips that will help you in the boardroom or on a stage.
Our special guest Andrea Larick has seen it all. She oversees both Content Marketing World and ContentTECH Summit presentations. Based on her experiences, she shared key principles on how to become a better speaker.
The following is a look at her conversation with our community. Want more? Our Twitter Moment includes more from the Q&A.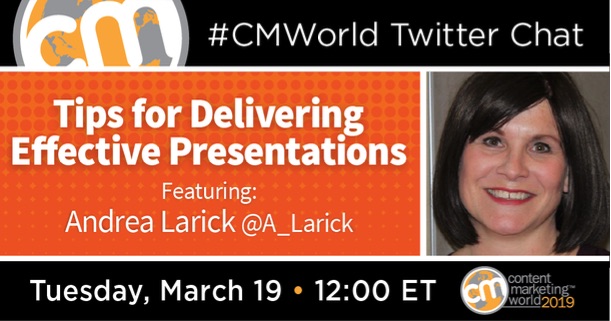 How do you fit your big idea into a presentation without overwhelming or boring your audience? How should you structure your talk?
See more answers to this and other questions in our Twitter Moment.
Everyone has a different presentation style. Do you take the time to rehearse? Or do you deliver something impromptu?
See more answers to this and other questions in our Twitter Moment.
How has public speaking strengthened your role as a content marketer? Let us know in the comments below.
Meet Andrea and see the group of speakers she has lined up when you attend Content Marketing World 2019. Register now with code SM100 to save $100 off Early Bird prices.
Posted March 20, 2019 in: Event by Monina Wagner
---
UP