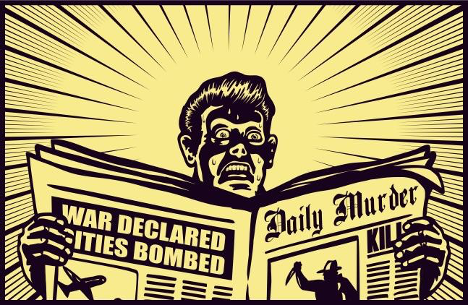 Each week on the Content Marketing World blog, we're going to feature a CMWorld 2020 speaker blog post that dives into the topic they'll be covering at CMWorld, plus a few additional articles they've written to help you prepare for their session.
Today, we're completing the series with Tom Martin, a CMWorld speaker and a leading voice on lead generation via digital tools and technologies. Make sure you check this post out for Tom's latest insight on sales and lead generation strategy.
There is a dangerous dogma that has infiltrated digital sales and marketing thought. One that if left unchecked, will cause numerous content marketing and lead generation programs to fail.
Yet, as you read posts penned by lead generation agencies and lead generation thought leaders, listen to popular podcasts or attend demand gen conference sessions, you won't hear anyone acknowledge the most closely guarded lead generation secret of our time. Until today!
"It's time to set aside our slavish devotion to the click"
That's right… I said it.
Clicks… clicks…. clicks… it's all anyone wants. Because marketers, specifically content marketers believe that a click equals intent. And a download… well that is the holy grail of intent… I mean clicks.
But humor me for a few minutes and consider a world where a click is just a click. In that world you might believe that:
Don't miss Tom Martin's session, You're Tracking The Wrong Damn Numbers
at Content Marketing World 2020, taking place virtually, October 13-16.
SPEAKER100 saves $100
off your registration.
A click is invisible. And that's a problem because it's really hard to sell to the invisible. A conversion, even if it's just a newsletter or blog subscription requires the invisible sales prospect to turn off their digital cloaking device and reveal one small piece of identifiable data to you — their email address. Well that is if you're smart enough to require a real email address to get that all important white paper. ?
Clicks show interest but not necessarily intent. Clicks are the online version of "window shopping" and sometimes where there is interest, there is also intent. But far more often, that is not the case. That digital window shopper is happy to try on your content with no intention of buying anything today or in the future. These are the leads that your sales teams scream bloody murder about and why they continually accuse their marketing counterparts of "providing useless leads."
Clicks create content traps. When you focus on the click and you begin to value it like a conversion you start to fall into content traps.These traps take two forms.First, you start to create and share content in a way that is designed to create clicks instead of conversions – think lists posts or click-bait headlines.Second, you start to create content for your audience (fame) instead of your prospects (profit). Ego is a powerful drug. And believe me, there are a lot of famous people and brands out there that aren't making a ton of money from their content marketing.
You promote your most popular content vs your most effective. When you fall victim to Click Think you become a slave to First Click content.Case in point: look at your blog and other popular blogs. Do you (they) use widgets that show your/their most popular content on the right hand rail of the blog? Why? Instead, why not feature the best converting content instead?
You invest your time in guest posting opportunities that generate the most traffic vs the most business. Pushing your content out to your best Propinquity Points is a common theme I preach. But if you only evaluate your Propinquity Points based on click-thru data, you can easily end up spending a lot of time creating very popular content that drives tons of traffic, but few conversions.The truth is, oftentimes, less IS more.
You don't write second click content. Second Click Content is all about the conversion. It isn't written for Twitter or a Google bot. It's written to help self educating buyers complete their education in a way they favors you and/or your company's solution to their problem.
But What About Growing Brand Awareness?
"If I focus all of my attention on conversion content and neglect awareness content, won't I begin to harm my lead generation efforts? Isn't there value in popular content that gets shared at a higher rate even if it doesn't necessarily drive conversions?"
-Brian Clark, Copyblogger
The short answer is that nothing in sales and marketing is ever an absolute. Everything in sales & marketing exists as part of a delicately balanced ecosystem.
True, there cannot be a conversion without first establishing awareness. In fact, the law of propinquity states that all relationships move through a predictable series of steps beginning with awareness, followed by knowing, liking and ultimately converting.
So yes, there is an argument to be made for paying attention to popularity. My point here, just don't become a slave to the click. At some point, fame is fine but fortune is better. And to obtain fortune, you need conversion.
But enough about what I think…. what do YOU think? Is there too much focus on creating popular content? Do we as an industry need to focus more on conversion? Even if that means we'll see less traffic?
This post originally appeared on Converse Digital Blog
Looking for even more from Tom? Check out these three blog posts that will help you dive deeper into the science of memorable content and prepare you for Tom's CMWorld workshop:
Register today for Content Marketing World 2020, where you'll hear from Tom Martin and 150+ other incredible content marketing leaders. Use SPEAKER100 to save $100 off your pass!
Posted October 1, 2020 in: Event by Cathy McPhillips
---