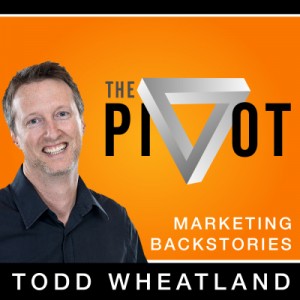 In May of 2014, an idea was born within the CMI team to launch a podcast network – and the team was off and running. That idea became a reality in October, when the CMI Podcast Network was born. During the planning phase, the team thought – what better place to find podcast hosts than our own community of Content Marketing World speakers and friends? Todd Wheatland, one of the few who have spoken at all Content Marketing World events dating back to 2011 and spanning multiple continents, had the honor of being the first new podcast to launch on the new CMI Podcast Network (after Joe and Robert's This Old Marketing podcast, of course.)
Todd's podcast, The Pivot: Marketing Backstories, focuses on content marketing professionals divulging stories of their career, and what pivot point led Todd's guests to where they are today. How many industries today have such a wide array of backstories as content marketing, from thought leaders to practitioners alike? As you know, we content marketers love stories. We're making a connection, learning new information, and gaining knowledge likely applicable to where we are today. In listening to the podcasts that Todd has done to date, I've laughed, nodded in agreement and learned from every single one. Take a listen and let us know what you think.
And in the true spirit of storytelling, we asked Todd a few questions about The Pivot, which also gave us a peek into Todd's personality – a definite bonus on why the show is so great. Read on.
Who will benefit from the content on your show?
I don't really care much for titles or people who take themselves too seriously. Yes, I'm speaking with some really successful people, but I'm selecting guests based their willingness to authentically share their stories. Life isn't a shiny social media profile.
So, hopefully anyone interested in what's happening in marketing and business today would find value from The Pivot. The rules are being re-written literally beneath our feet, and the people who are succeeding are coming from all manners of backgrounds and fields of expertise. It's a very exciting, empowering time to be doing what we're doing – I wanted to celebrate the people who are doing that.
What do you hope those people get from your podcast?  
If people are looking for inspiration, motivation, understanding, or are just curious about how some great business minds have gotten where they are, then I hope this will be the show for them.
Why did you want to start this podcast?  
For the last ten years or so I've been fortunate to have roles where I get to meet a huge range of people. In the marketing world alone, I speak at a lot of events and for me the part I love is getting to know individuals. I wanted to create a show that could capture some of the great stories that you find out about people in those private times around the bar or dinner table. Even people who we think of as being the most successful have come at it through any number of strange twists and turns. We can all look up someone's LinkedIn's profile – I wanted to help connect the dots behind the public story, to explore the backstories that got people to where they are today.
What excites you about being part of the CMI podcast network?
Free t-shirts?
Everything's better with friends! Obviously I've been a big fan of Robert and Joe's podcast, and have a huge amount of respect for podcasting whizz Pamela Muldoon and friends like Drew Davis and Heather Meza. Tim Washer is a charlatan, however.
What can we expect in the weeks to come?  Guests lined up? 
The Pivot's going to share stories from three types of guests, and we've got a wide range of people lined up for the coming weeks and months:
Marketing practitioners – people at the coal-face, fighting the good fight, pushing in a hundred directions at once.
Gurus & Smarty-pants – the names that we know, who have understood how to harness the power of content and social.
Out of the Box – some people who are doing amazing things, but who certainly didn't study marketing and might be surprised to find that's what it's called these days.

 
Find out more about the The Pivot: Marketing Backstories, part of the CMI Podcast Network. Let us know what you think – reviews are most appreciated and encouraged! 
Posted November 12, 2014 in: Event by Cathy McPhillips
---