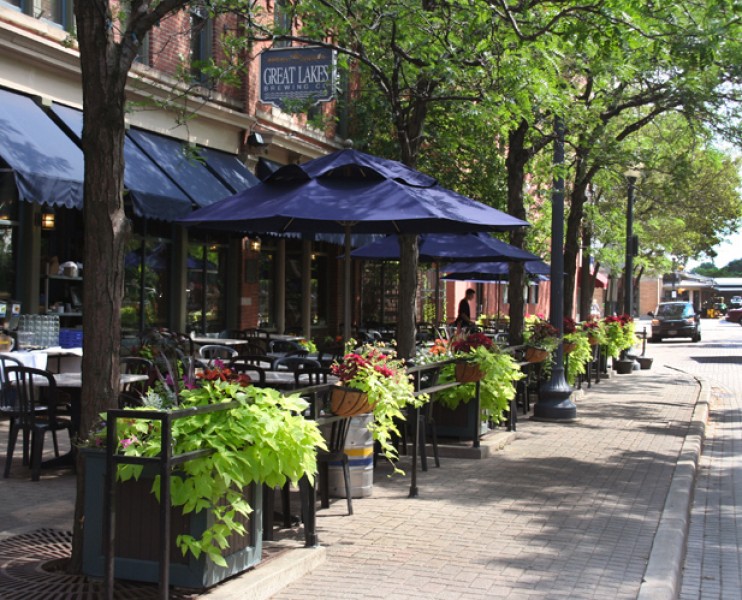 Are you into the craft brew craze sweeping the country? Well you're in for a treat, because Cleveland has you covered. And we're not just talking bars, lounges, and clubs. We're talking local breweries and taprooms that will have you reimagining what beer actually is.
Whether you're coming for Content Marketing World at the Rock and Roll Hall of Fame or just to have a good time in town, we're here to help. Let's take a tour of some of the best Cleveland craft breweries:
1. Brick and Barrel
The Brick and Barrel, with its industrial-style design and tasty home brew ales, has a name and atmosphere that's reflective of the Columbus Road peninsula's gritty, working-class roots. The founders and beermakers and constantly studying, experimenting, and brewing up new and tastier beers.
Address:
1844 Columbus Rd
Cleveland, Ohio 44113
2. Forest City Brewery
Walk into Forest City Brewery and the exposed brick, antique furniture, and vintage brewery paraphernalia will put you in the mood for a good time. Head up to the bar and check out the drink list (it's always changing). House beers that you'll find at this Duck Island establishment include the "Furbelly" Irish Stout, Tomahawk Tripel (a Belgian-inspired brew), and Opening Day IPA.
Address:
2135 Columbus Rd (Entrance on Freeman Ave.)
Cleveland, OH 44113
3. Nano Brew
Located in the happening Ohio City neighborhood, few brewpubs compete with Nano Brew when it comes to entertainment. The beer list is extensive and includes a diverse selection of IPAs, stouts, porters, pale ales, and more. Relax in the beer garden, work on your bike at the tune-up station, and sample creative, locally-sourced pub food.
Address:
1859 W 25th St
Cleveland, OH 44113
4. Butcher and the Brewer
Butcher and the Brewer makes you feel as if you just walked into your old neighborhood butcher shop. Expect friendly, down-to-earth service. The staff here will deliver what you need—without lofty lines. The house-made brews here sell themselves. From powerful double IPAs to peppery saisons, this brewery simply delivers a good drink no matter what flavor you prefer.
Address:
2043 E 4th St
Cleveland, OH 44114
5. Market Garden Brewery
Right next to West Side Market, Market Garden Brewery is stocked with tasty beers, including the Citramax IPA and Progress Pilsner. The taproom also has a rotating list of guest beers. You can also tour the 35,000-square foot production facility while visiting.
Address:
1947 W 25th St
Cleveland, OH 44113
6. Platform Beer Co.
Another gem of the Ohio City neighborhood, Platform Beer Co. has an impressive list of brews for any taste. The taproom regularly hosts events, like trivia and comedy nights. There is also outdoor seating if the weather is nice. The bar occasionally has discounted fill-ups if you buy a growler.
Address:
4125 Lorain Ave
Cleveland, OH 44113
7. The Cleveland Brewery
Unsurprisingly, the Cleveland Brewery is full of Cleveland touches, like tap handles that look like Terminal Tower. The taphouse also has a wide selection of brews with cool names, like the 185th Street Wheat and Lake View Cemetery (a pumpkin ale). It's not just the names that are creative, either. The beers here are unique and flavorful.
Address:
777 E 185th St
Cleveland, OH 44119
8. Great Lakes Brewing Company
You absolutely have to stop at Great Lakes Brewing Co.—the Cleveland house beer that has ascended to international fame and recognition. Opened in 1988 by brothers Pat and Dan Conway, Great Lakes is where craft beer in Cleveland started. The distinctive flagship beer, Dortmunder Gold, is a must-try. Seasonal brews are also delicious.
Address:
2516 Market Ave
Cleveland, OH 44113
9. Collision Bend Brewing Company
We don't know what's better: the crisp craft beers brewed on-site, the artisanal menu, or the riverfront patio. Brewmaster Luke Purcell brings 20+ years of experience and several industry awards to the brewery. It's no wonder Collision Bend was named best brewpub in the nation.
Address:
1250 Old River Rd
Cleveland, OH 44113
10. Masthead Brewing Company
Located in the historic Bryant Building, Masthead has a nice variety of Belgian- and American-style beers on tap. The taproom, with over 300 seats and a 100-foot long bar, offers plenty of room to enjoy your drink and conversation with friends and colleagues. Order some Neapolitan wood-fired pizza along with your beer, and you'll be in paradise.
Address:
1261 Superior Ave
Cleveland OH 44114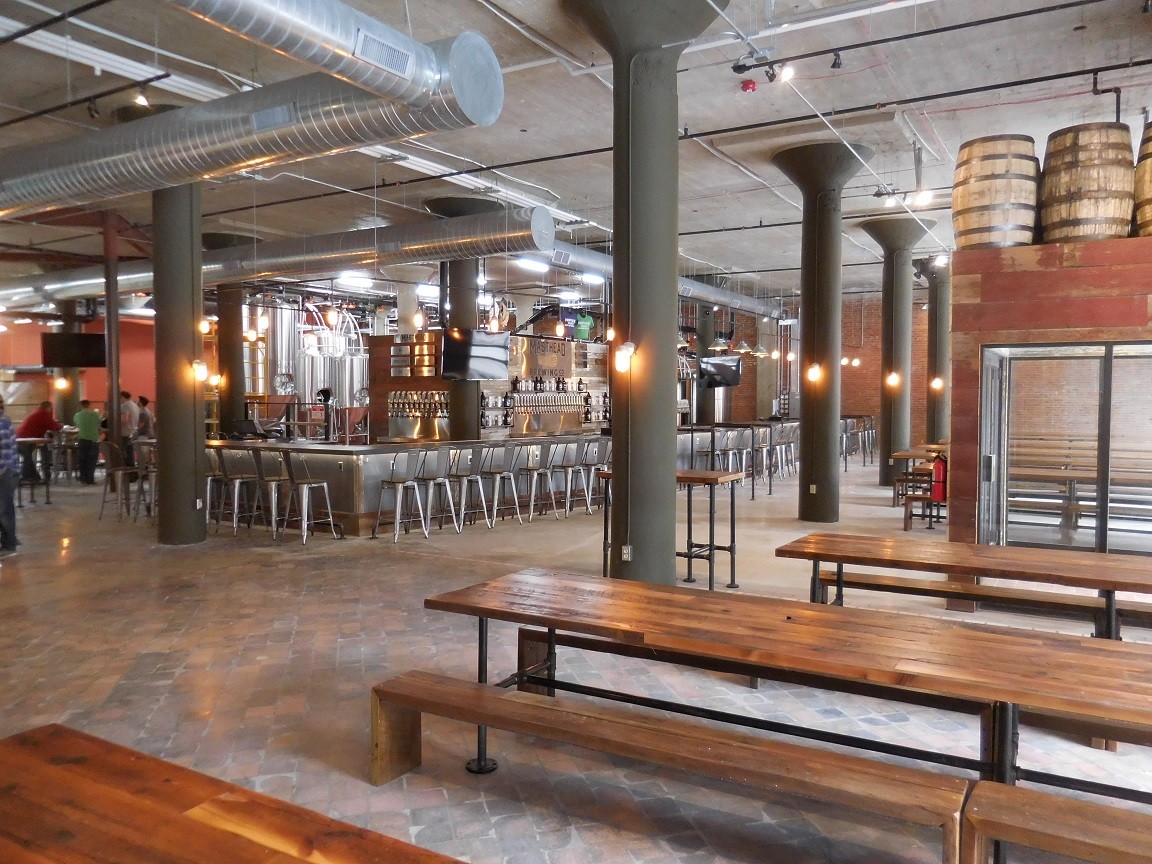 Source: Cleveland Scene
11. Noble Beast Brewing
The name sure catches your attention, but the house beers will make you want to stay. And the bar food is quite good here, too. They make super good salads. Established in 2017, Noble Beast Brewing could be Cleveland's next big thing.
Address:
1470 Lakeside Ave E
Cleveland, OH 44114
12. Brew Kettle
Want a hands-on drinking experience? Come to Brew Kettle, Ohio's first beer-on-premise microbrewery. Established in 1995, this taproom actually allows you to choose your own beer recipe and make it on site (just ask staff if you need help). It's also a great place for drinks and conversation.
Address:
8377 Pearl Rd
Strongsville, OH 44136
Local brews in Cleveland simply rock
Clearly, Cleveland rocks when it comes to local brews. Take time to check some breweries out during your next visit. Did we miss your favorite? Leave a note in the comments!
If you register for Content Marketing World (there's still time!), you'll have the chance to visit some of these even sooner. Looking to register for CMWorld? Hurry! Our annual conference and expo happens next week, September 5-8, 2017. Code BLOG100 saves $100!
Posted September 1, 2017 in: Event by Cathy McPhillips
---