Content Marketing World is part of the Informa Connect Division of Informa PLC
This site is operated by a business or businesses owned by Informa PLC and all copyright resides with them. Informa PLC's registered office is 5 Howick Place, London SW1P 1WG. Registered in England and Wales. Number 3099067.
Turning Employees Into Thought Leaders: A #CMWorld Twitter Chat With Maureen Jann
Mention "thought leadership" to a group of marketers, and you'll likely get mixed reactions. Those two words tend to generate a lot of buzz – from those purporting to be one to others who hate the term all together. So, we thought now would be a good time to take a more critical look at thought leadership and define what it is (and what it isn't).
Maureen Jann, founder of SuperDeluxe Marketing, says brands want a go-to thought leader but don't know how to tap the knowledge within their own organizations. Maureen joined a recent #CMWorld Twitter chat to explain how a strategy can help identify thought leaders and best utilize their expertise.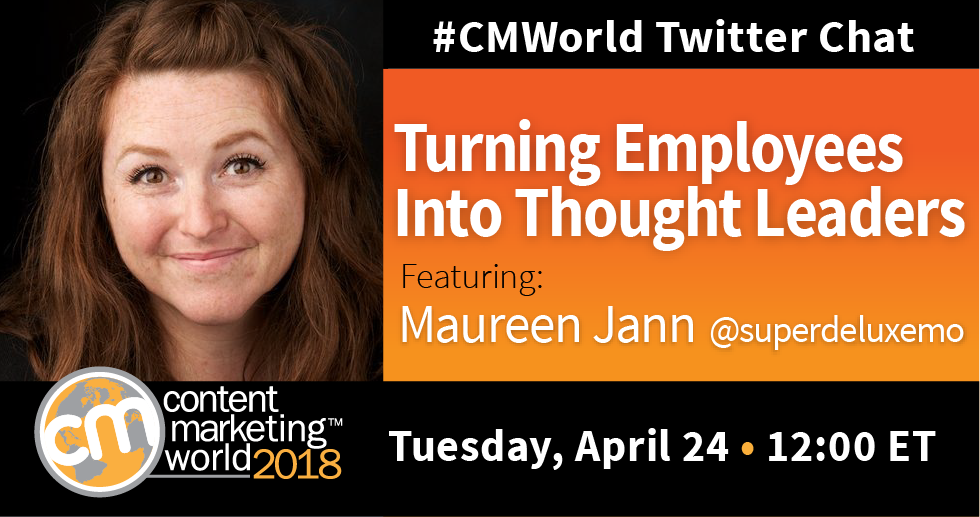 How do you go about identifying individuals within your organization who would make a good thought leader?
Thought leaders should provide fresh insights, rather than regurgitate what has already been said. How can you encourage a new, distinct point of view?
A complete look at tweets from this chat can be found in our Twitter Moment. Want to continue the conversation on this topic? Share your thoughts in an ongoing discussion taking place in our LinkedIn Group.
For more ideas and insights for advancing your thought leadership strategy, attend Maureen's session at Content Marketing World 2018. Get $100 off your registration when you sign up with code SM100.
Posted April 25, 2018 in: Event by Monina Wagner
---
UP