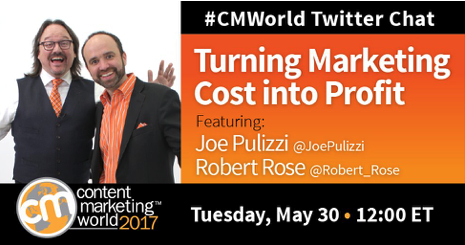 When does marketing go from being an expense and investment to a profit center? Between constructing a business model to having the ability to build relationships directly with our customers on our own platforms, others will look to your brand as an opportunity to reach your qualified and desired audience. As Joe Pulizzi said during this Twitter chat, "The business models for media companies AND brands that sell products AND services today are one in the same" (re: content).
This recent #CMWorld Twitter chat stemmed from Joe and Robert's new book coming out this September, Killing Marketing: How Innovative Businesses are Turning Marketing Cost into Profit which will be released at Content Marketing World 2017.
During the chat, we discussed the whys and the hows of turning marketing cost into profit, how to get started, and what model to use. What follows are highlights of the chat. Looking for more insights? Be sure to check out our Storify recap.
Build your audience and they will come (back)
You've done the work and built your audience. Capitalize on all he ways you can drive revenue on your own now that you've helped – and will continue to help – your audience solve a problem.
Exhibit model behavior
Setting up a model with this approach is critical for success. But what model makes the most sense? As with much of what we do in content marketing, "it depends" is sure to be an answer. But what tips do members in our community have?
Have you started to turn your marketing into a profit center? What examples of companies have you seen that have had success with this model? Let's discuss more in the comments!
Speaking of profits, invest in Content Marketing World this September for a huge ROI. Register by June 2, 2017 to secure Early Bird rates. Use code SM100 to save an extra $100.
Posted June 1, 2017 in: Event by Cathy McPhillips
---