Content Marketing World is part of the Informa Connect Division of Informa PLC
This site is operated by a business or businesses owned by Informa PLC and all copyright resides with them. Informa PLC's registered office is 5 Howick Place, London SW1P 1WG. Registered in England and Wales. Number 3099067.
Types of content strategy (and why marketers should care): A #CMWorld Chat with Matthew Grocki
Did you know that there are two types of content strategy — and why marketers need to understand this?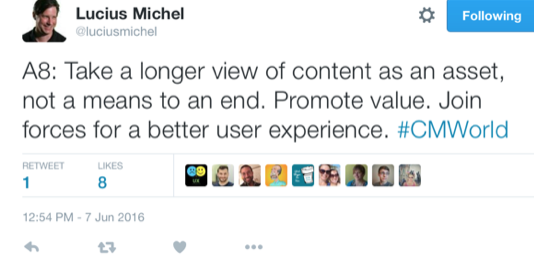 Ann Rockley recently discussed these roles on the CMI blog where an active conversation followed, so we decided to take this topic to the #CMWorld Twitter chat community with Matthew Grocki, principal and owner of Grass Fed Content.
A few highlights of the chat are below. Visit this week's Storify for even more great conversations on this topic.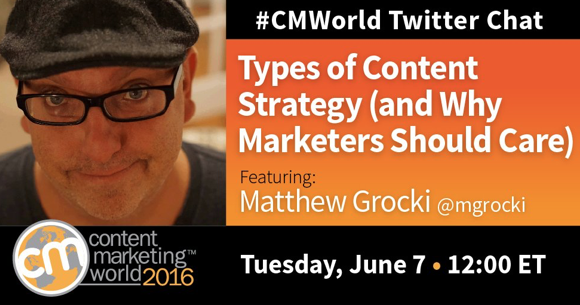 What were some key takeaways?
Community members are cognizant that there is no such thing as a "perfect" content strategy. 
Participants also realize the importance of breaking down silos.
Looking for more? Check out our Storify for even more insights from our awesome community. Thank you, Matthew, for joining us! 
If content strategy is interesting to you, please sign up for our Content Strategy for Marketers weekly email newsletter, which features exclusive insights from CMI's chief strategy officer, Robert Rose. If you're like many other marketers we meet, you'll come to look forward to his thoughts every Saturday.
Posted June 8, 2016 in: Event by Cathy McPhillips
---
UP