Wow! It's been awhile since I've been behind the @CMIContent Twitter handle (thanks, Monina, for letting me step in for a day!).
Lucky for me, one of my favorite marketers and favorite Clevelanders was our special guest. Jacquie Chakirelis, director of marketing for the Great Lakes Science Center, talked with our community about user-generated content (UGC).
So many industries are ripe for UGC. And many are doing it so successfully. The travel and tourism industry, the retail industry, nonprofits, and so many others have content from customers coming it at a fast pace. We talked briefly about all the content that Disney must have to sift through, manage, curate and repurpose. I hope they have a huge team and a great digital asset management system to manage this!
Our goal for this chat was to get us out of the mindset of UGC simply meaning reposting or sharing customer content on Instagram. And with question #1, we were well on our way to some great thoughts from our community (of course).
Thanks to everyone for always welcoming me (@cmcphillips, if you missed the chat live) back to the group with open arms!
We hope you enjoy this brief summary – our own example of user-generated content! If you'd like to see all seven questions and their responses, check out our Twitter Moment #1 and Twitter Moment #2.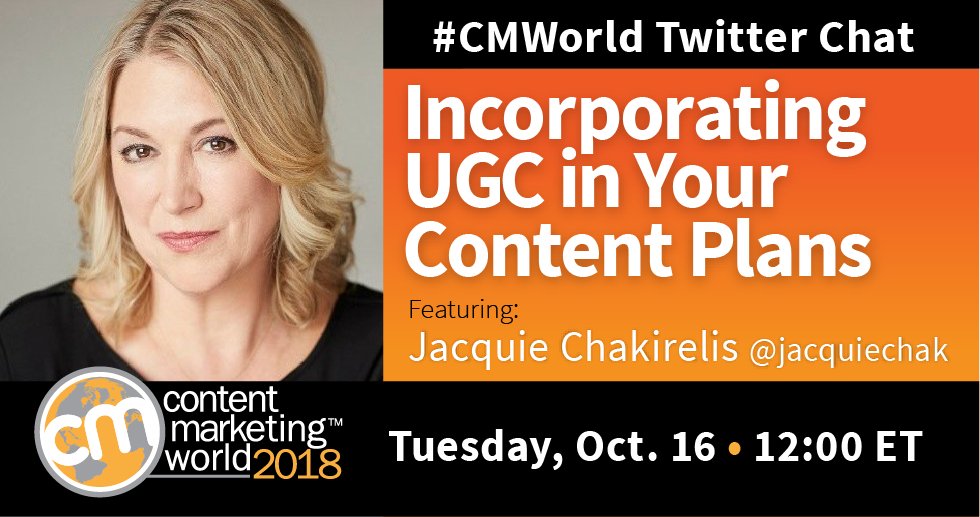 Q1: Some people hear user-generated content and immediately think of photos on Instagram. But #UGC comes in many formats. What other content types can be created by your audience that is relevant to your brand? #CMWorld
Q3: How can brands collect content from their audiences and encourage participation without making it seem like work for their customers? #CMWorld
What are your favorite examples of brands using UGC? Check out Twitter Moment 2 linked above for some great examples mentioned by our #CMWorld community in Q7.
Looking for some more great ideas from our community? Attend our Master Class, coming to San Francisco, New York City and Chicago this December. We hope to see you there! Use code CMI2018 to save $100 off your registration.
Posted October 17, 2018 in: Event by Cathy McPhillips
---