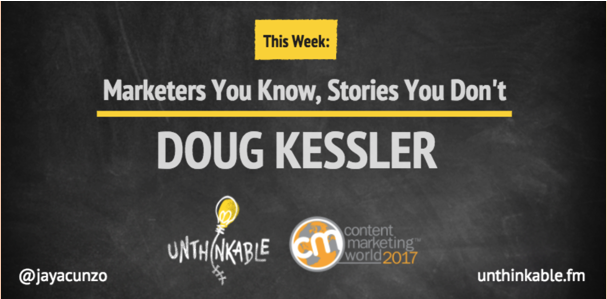 Welcome to episode 5 of the Unthinkable #CMWorld series, where we're partnering with Jay Acunzo, Content Marketing World 2016's highest-rated speaker, and therefore CMWorld 2017's opening keynote. Jay is the creator, host, and mastermind behind the wildly-popular, "This American Life of Marketing", narrative-style podcast, Unthinkable.
Jay continues with his bi-weekly interview with CMWorld speakers you know, by exposing stories we don't yet know. This week we get to learn a little more about Doug Kessler.
Doug recently wrote on the Content Marketing Institute blog – The Content Assembly Line is Broken. Doug is one to challenge the status quo and to push content marketers and marketers in general to create better work.
One of my favorite pieces of work from Doug is The Search for Meaning in B2B Content Marketing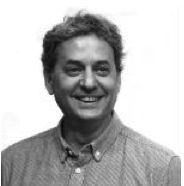 Doug Kessler is the co-founder and creative director of Velocity, the London-based B2B content marketing agency. Doug writes about content marketing, including pieces such as "Crap: Why The Biggest Threat to Content Marketing is Content Marketing" and "The Big Fat Content Marketing Strategy Checklist."
Doug can often be found ranting against the reactionary forces of mediocre marketing – but always with a bit of a wink. @dougkessler
Listen to Jay's interview with Doug:
Spend just under 40 minutes listening to a great conversation between Jay and Doug – you'll learn a lot, and be inspired to do better work.
As always, Doug will be at Content Marketing World – doing what he does best: challenging the conventions of content marketing, and making us all do better work. Be sure to check out his session. And if you register early, you can be sure to secure a seat in his session!
Channel links: iTunes, SoundCloud, Stitcher, Google Play
Unthinkable is like a travel show, but about marketing. Each week, Jay picks a topic we care about as content marketers and goes exploring to find the deeper meaning behind our work. CMWorld and Jay will be running a new episode in our series every-other-week, but Jay launches new episodes weekly. You can subscribe at unthinkable.fm.
Interested in hearing from Doug  and others at Content Marketing World? Great! Now is a great time to register, as early bird rates are in effect until June 2. Plus, with code UNTHINKABLE, you can save an additional $100 off current prices.
Posted May 8, 2017 in: Event by Cathy McPhillips
---