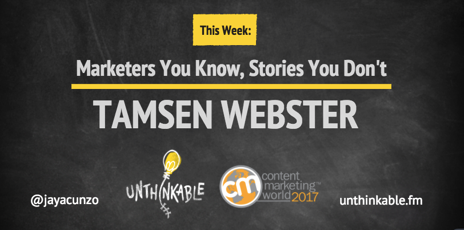 Welcome to episode 3 of the Unthinkable #CMWorld series, where we're partnering with Jay Acunzo, Content Marketing World 2016's highest-rated speaker, and therefore CMWorld 2017's opening keynote. Jay is the creator, host, and mastermind behind the wildly-popular, "This American Life of Marketing", narrative-style podcast, Unthinkable.
Jay continues with his bi-weekly interview with CMWorld speakers you know, by exposing stories we don't yet know. Take 25 min this week to learn more about Tamsen.
Public speaking is an art. After spending over an hour interviewing Tamsen Webster during Content Marketing World 2016, I was intrigued and inspired by her work, her passion for it, and her desire to help others. Check out my interview with Tamsen in the December issue of Chief Content Officer Magazine.
Since then, I've been a Tamsen superfan, and have enjoyed her new video series, The Red Thread. Pulled from the iTunes description, The Red Thread: Simple Models for Mastering Change brings you brief, engaging looks at the mental models we use to make meaning – and how to use them to create and communicate change. Personally, I like the videos so I can focus better on Tamsen's messages.
So when Jay Acunzo said he wanted to interview Tamsen as part of our CMWorld Unthinkable collaboration, I was thrilled with the idea.
Tamsen sat down with Jay to talk about The Red Thread, space bags, lint on your back, and what being a Weight Watchers leader for 13 years taught her. Now you have to listen, right?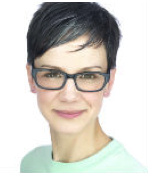 Tamsen Webster is an acclaimed keynote speaker, "idea whisperer," and change strategist. She combined 20 years in marketing with 13 years as a Weight Watchers leader into a simple structure for understanding, talking about, and creating lasting change.
She's the Executive Director of the oldest and one of the largest locally organized TED talk events in the world, and an in-demand consultant on finding the ideas that move people to action. Find her on Twitter @tamadear
Listen to Jay's interview with Tamsen:

Some of the conversations and messages that resonated with me or that I loved learning:
"The Red Thread" is a phrase that Scandinavians used to ask, "what is this thing that ties everything together?" What is the theme, what is the through line, what is the message? As marketers, as speakers, as people, Tamsen says it's critical that we quickly articulate to somebody what our presence means.
In order for something to have meaning, it has to make sense first
How the "About Us" page on Ariana Huffington's Thrive Global website – clearly articulates of the problem Thrive Global is working to solve, what they believe, and why they're creating a community – listen to find out why Tamsen likes this example
Spend 25 minutes learning more about Tamsen, and of course quite a lot from her, as the above bullet points really don't do it justice.
I'm very excited to be moderating an #AMA Ask Me Anything session with Tamsen and Scott Stratten this September at Content Marketing World. Join me and learn more from two of the best speakers I know.
Channel links: iTunes, SoundCloud, Stitcher, Google Play
Unthinkable is like a travel show, but about marketing. Each week, Jay picks a topic we care about as content marketers and goes exploring to find the deeper meaning behind our work. CMWorld and Jay will be running a new episode in our series every-other-week, but Jay launches new episodes weekly. You can subscribe at unthinkable.fm.
Interested in hearing from Tamsen and others at Content Marketing World? Great! Now is a great time to register, as early bird rates are in effect until June 2. Plus, with code UNTHINKABLE, you can save an additional $100 off current prices.
Posted April 5, 2017 in: Event by Cathy McPhillips
---