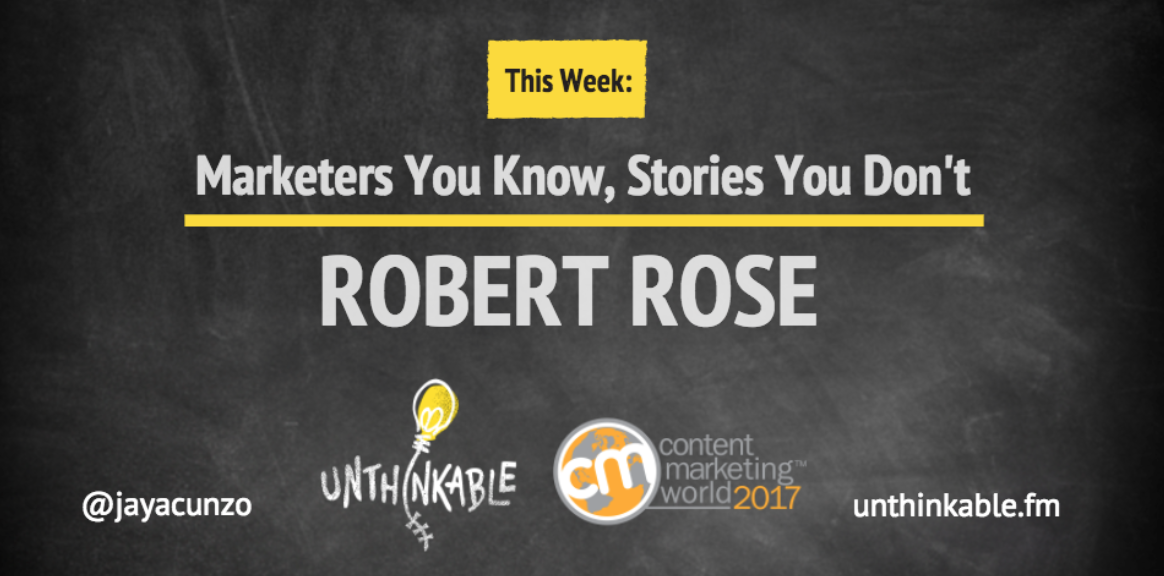 Welcome to episode 4 of the Unthinkable #CMWorld series, where we're partnering with Jay Acunzo, Content Marketing World 2016's highest-rated speaker, and CMWorld 2017's opening keynote. Jay is the creator, host, and mastermind behind the wildly-popular, "This American Life of Marketing", narrative-style podcast, Unthinkable.
Jay continues with his bi-weekly interview with CMWorld speakers you know, by exposing stories we don't yet know. This week, Jay interviews one of my favorite speakers and one of the best people I know, Mr. Robert Rose. And I'll tell you, I learned something new about Robert this week, too!
I have the pleasure of working with Robert at the Content Marketing Institute, and am still in awe of him, his speaking ability and presentation style, his smarts, and his knowledge of pretty much everything. One of my favorite days in my career was spending a day with him and Michele Linn, where we were Robert's "consulting client" for the day, helping us at CMI work on our 2016 strategy together. Reflecting on that day, Michele and I realized it was also much like a therapy session. Robert really didn't problem solve for us, he asked questions to help us find vision and clarity on our own – allowing us to be able to . Robert was our own Glinda the Good Witch who told Dorothy in The Wizard of Oz, "You've always had the power…"
So when Jay said that Robert was one of his interviewees, I was really happy that the Unthinkable community would have a glimpse into Robert's journey and mind.
"We're trying to figure out whether turning on the light at 6:05 vs. 6:00 makes an aesthetic difference." Robert tells us as marketers to start thinking about bigger things than follower counts on social and generating ROI.
Who exactly is Robert Rose?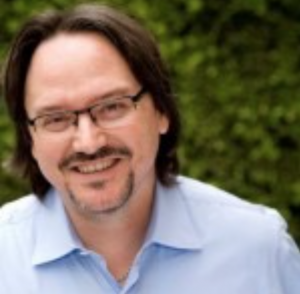 As the Chief Content Adviser for the Content Marketing Institute, Robert innovates creative and technical content marketing strategies for his clients. An early Internet pioneer, Robert has more than 15 years of experience, and a track record of helping brands and businesses develop successful Web and content marketing strategies. Robert recently released Experiences: The 7th Era Of Marketing with co-author Carla Johnson.
Robert is a frequent keynote speaker, advising top professionals in the successful strategy of online marketing and Web site management. He's also the primary author of the book Managing Content Marketing with Joe Pulizzi. @Robert_Rose
Listen to Jay's interview with Robert:
What will you hear in this episode?
Jay runs through the before and during of Robert's interview with the great John Cleese at Content Marketing World 2015
What are Robert's traits that make him different? He's authentic in everything he does and the work he does. (Tune in around 10:00 to hear his shout out to Sally Hogshead
Why Robert prefers the word "authority" vs. "expert"
Robert's first foray into music and how it has become such an integral part of his life…and how that translates into his career today
Why a gardening magazine helps Robert do his job better
Why Robert believes so much in experiences and their importance in the marketing world
And catch Robert's answers to Jay's "Alpha, Beta, Scale" questions that he asks at the end of each episode
Spend just over 30 minutes learning more about Robert…you'll really enjoy it!
I'm also very excited to have an opportunity to listen to Robert once again at Content Marketing World where he'll be speaking on "A 4th Model for Content Marketing: Generating Direct Revenue from Your Marketing Department" (YES – really looking forward to this one!) and a pre-conference workshop on "Content Creation Management for the Enterprise"
I really hope to see you there! See below for a great offer for Unthinkable listeners.
Channel links: iTunes, SoundCloud, Stitcher, Google Play
Unthinkable is like a travel show, but about marketing. Each week, Jay picks a topic we care about as content marketers and goes exploring to find the deeper meaning behind our work. CMWorld and Jay will be running a new episode in our series every-other-week, but Jay launches new episodes weekly. You can subscribe at unthinkable.fm.
Interested in hearing from Robert Jay and other authorities at Content Marketing World? Great! Now is a great time to register, as early bird rates are in effect until June 2. Plus, with code UNTHINKABLE, you can save an additional $100 off current prices.
Posted April 19, 2017 in: Event by Cathy McPhillips
---