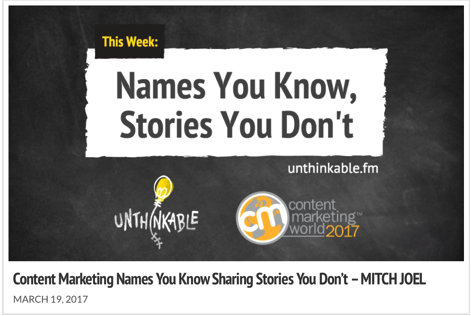 We're back! In case you missed last week's blog post, we're partnering with Jay Acunzo, Content Marketing World 2016's highest-rated speaker, and therefore CMWorld 2017's opening keynote. Jay is the creator, host, and mastermind behind the wildly-popular, "This American Life of Marketing", narrative-style podcast, Unthinkable.
Jay's mission with Unthinkable is to break away from conventional thinking in marketing. His previous guests have been new names to many of us in the marketing and content marketing world, but quite successful in their own niches because of their leaps and their non-traditional thinking.
Jay and I spoke this week about the plan for the remainder of the episodes in the CMWorld series, and one thing struck me: Jay WASN'T interviewing all new names, he was interviewing many of the folks we know so well: Jay Baer, Jessica Best, Mitch Joel (no spoiler here, you'll have to wait for the rest of the episodes to see what else is in store). But what Jay has done with these Unthinkable episodes was dig deeper into each of these people for stories that you don't know, thinking that you haven't heard, history that has made each of these epic marketers who they are today, and passions outside of our careers that fuel their creative minds.
This week, Mitch Joel sits down with Jay to share stories about his first keynote speech, his thoughts on artificial intelligence and much more.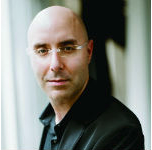 Mitch Joel, President of Mirum, a global digital marketing agency, and author of the great book CTRL ALT Delete, has been a long-time speaker at Content Marketing World. Mitch returns to CMWorld 2017 to teach us how to create a high-impact, award-winning podcast for your brand, and will also sit on a panel to discuss how enterprises show ROI to their executives.
Find Mitch on Twitter, or subscribe to his podcast.
Listen to this week's episode with Mitch:
How does the individual matter in the marketing that they (and we) do every day? Jay asks Mitch to dig a little deeper into why he dove into the world of public speaking, why he continues (joy being one main reason), and his look into the future of marketing.
A few of my favorite moments from this episode:
"People learn when they're interested" – (9:10 – 9:45)
"If you always have at least big toe, a foot, into the future there's always something new coming" – (13:00 – 13:30)
"How do you stay informed and up on all these things as they change?" (16:47 – 20:10)
Spend 30 minutes learning more about Mitch, and of course a little from him.
Channel links: iTunes, SoundCloud, Stitcher, Google Play
Unthinkable is like a travel show, but about marketing. Each week, Jay picks a topic we care about as content marketers and goes exploring to find the deeper meaning behind our work. CMWorld and Jay will be running a new episode in our series every-other-week, but Jay launches new episodes weekly. You can subscribe at unthinkable.fm.
Interested in hearing from Mitch and others at Content Marketing World? Great! Now is a great time to register, as early bird rates are in effect until June 2. Plus, with code UNTHINKABLE, you can save an additional $100 off current prices.
Posted March 22, 2017 in: Event by Cathy McPhillips
---