Content Marketing World is part of the Informa Connect Division of Informa PLC
This site is operated by a business or businesses owned by Informa PLC and all copyright resides with them. Informa PLC's registered office is 5 Howick Place, London SW1P 1WG. Registered in England and Wales. Number 3099067.
Upping Your Writing Game: A #CMWorld Twitter Chat with Penny Gralewski
Articles, social media posts, video and podcast scripts. There's always room for improvement. In this week's #CMWorld Twitter chat, we tackled a topic content marketers constantly think about: Becoming a better writer. Our community joined special guest Penny Gralewski to trade favorite tips.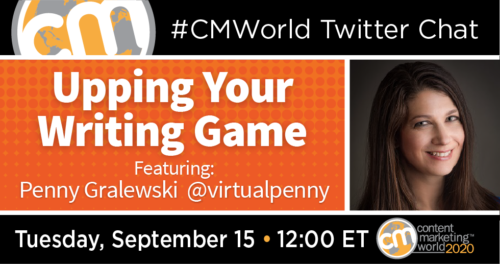 A big turnoff for readers is grammatical errors. What are some tips for proofreading content?
Is there a sentence structure writers should follow? What do content marketers need to keep in mind? Word count? Content length?
This chat was fast and furious. There's no way we could have fit all the tweets from this chat here. If you'd like to see more tips from Penny and our community, check out our Twitter Moment.
What writing tips do you swear by?
Looking for more writing tips that work? Attend Penny's session at this year's Content Marketing World! There's still time to register. Use code SM100 for $100 off at checkout.
Posted September 16, 2020 in: Event by Monina Wagner
---
UP