Content Marketing World is part of the Informa Connect Division of Informa PLC
This site is operated by a business or businesses owned by Informa PLC and all copyright resides with them. Informa PLC's registered office is 5 Howick Place, London SW1P 1WG. Registered in England and Wales. Number 3099067.
Using Awards Programs to Help Client Visibility: A #CMWorld Twitter Chat with Krissy Leskovec
Emmys. Grammys. Oscars. Tonys.
James Beard. ESPYs. Teen Choice.
It doesn't matter in which field you work, there's likely an awards program for your industry. Simply submitting an entry can play an important part in your business. But the benefits are even greater if you win the big prize.
Improves brand awareness
Demonstrates your position as an industry leader
Provides earned media opportunities
Increases employee engagement
And let's be honest. It's great to be recognized for your hard work.
Content Marketing Awards Consulting Manager Krissy Leskovec joined a recent #CMWorld Twitter chat to explain the entry process and why it is well worth the time and effort for brands. Our discussion touched upon how award programs can get you noticed by prospective clients, how feedback from judges can strengthen your future content marketing strategy, and much more. We have a brief recap here. But if you'd like to see more of our Q&A with Krissy, be sure to check out our Twitter Moment.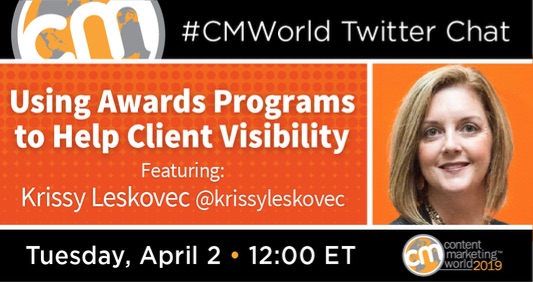 Are marketing awards programs more appropriate for B2B brands over B2C and non-profit ones? Would entries differ for enterprises and small business?
Winning or even shortlisting for an award shows expertise in your field while demonstrating your quality of work. How can an award help support business goals?
Have you produced content you are really proud of? Share it with us in the comments below.
Content Marketing Award winners represent work from some of the most respected brands, agencies, and publishers from around the world. It's your time to shine. Submit an entry. But hurry, the April 26 deadline is fast approaching!
Posted April 3, 2019 in: Event by Monina Wagner
---
UP