Content Marketing World is part of the Informa Connect Division of Informa PLC
This site is operated by a business or businesses owned by Informa PLC and all copyright resides with them. Informa PLC's registered office is 5 Howick Place, London SW1P 1WG. Registered in England and Wales. Number 3099067.
Using Customer Reviews in Your Content with Kristen McCabe
Kristen McCabe has seen this firsthand. She is Senior Marketing Specialist at G2, a peer review site for business software. Kristen knows the great benefits that come from incorporating feedback into your content marketing strategy. During a recent #CMWorld chat, Kristen discussed with our community how to creatively use reviews and what best practices brands should follow.
Below is a handful of tweets from our conversation. Want to learn more from our community of marketers? Join us on Twitter on Tuesdays at noon Eastern.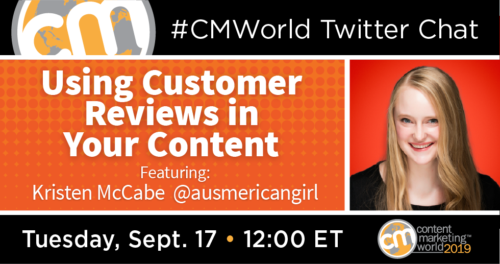 How can you use customer feedback to complement your content? When featuring reviews, what are the dos and don'ts?
The community then shared their advice for responsibly using reviews.
What if your brand receives negative feedback? What should you do? Can it help your content marketing efforts?
Our community agrees. Turn a mistake into a win. Fix what happened and learn from it.
How are we at CMI doing? Want to see a community activity introduced? Interested in being a guest on the #CMWorld Twitter chat? Think something needs to be addressed? Tell us about it and leave your feedback in the comments below.
Posted September 18, 2019 in: Event by Monina Wagner
---
UP