"In a world of information abundance, visuals break through." 
Wise words from Steve Clayton. We create an abundance of content for a number of reasons: SEO purposes, customer needs, consistency (something we preach regularly, regardless of frequency), and much more. How can we differentiate? 
As the number of companies using content marketing continues to increase, competition increases, and the sheer volume of content fights for eyeballs. How? Visuals. 
With visual elements, we see. We feel. We react. A simple search of iPhone apps show that over 10% of the top 100 apps are photo apps. Facebook and even Twitter have changed their layout to feature images. Pinterest and Instagram are leading the charge. And that doesn't even include video! 
Lee Odden says it best in his recent blog post: 
Here are a few ways to incorporate compelling visual elements in your content:
Create themed content using a metaphor that carries visual elements across the content types used in the campaign, across channels. This eBook series is a perfect example: Vintage Alice in Wonderland images are used in the eBooks, infographics, quote image tiles and as accents in supporting blog posts.
Take the customer point of view and think about the experience of discovering, consuming and acting on that content. What do you want them to do after consuming the content? How do you want them to feel? Use compelling images and video to support those experiential objectives, vs being literal. An article about insurance would use an image of a family, safe and secure vs. a photo of an insurance agreement.
Have a sense of humor. Whether your business is B2C or B2B, humans will almost certainly be involved. Find what customers would think is humorous, make light of a common situation that most everyone in your industry can relate to. I can only imagine the impact of creating a clever cartoon with CMI's Joe Pulizzi as the Mad Hatter. Or better yet, what if we "cast" CMWorld keynote speaker Kevin Spacey as a different Alice in Wonderland character in each of these eBooks? I think you get the idea.

 
Make customer empathy a priority with content planning and find ways to incorporate visual metaphors and a bit of visual humor in your content. Not only will visual content inform your buyers in more interesting ways, it will help create an emotional connection that can a long ways towards helping your brand stand out from the content competition. 
Ten Content Marketing World speakers, including Lee Odden, contributed to the latest #CMWorld eBook, "A Visual Content Marketing Strategy". Download this latest eBook to find new ways to approach visual content. 
Expert advice has come from the following Content Marketing World speakers and industry experts: 
Maggie Burke @MaggieEMCTV, Senior Director, Corporate Marketing at EMC Corporation
Jason Miller @jasonmillerca, Senior Manager, Content & Social Media at LinkedIn
Pam Didner @pamdidner, Author of Global Content Marketing
Tim Washer @timwasher, Senior Marketing Manager of Social Media at Cisco Systems
Steve Clayton @stevecla, Chief Storyteller at Microsoft
Mark Schaefer @markwschaefer, Executive Director at Schaefer Marketing Solutions
Brant McLean, Director of Brand Partnerships at Tumblr
Lee Odden @leeodden. CEO at TopRank Online Marketing
Carla Johnson @carlajohnson, President, Type A Communications
Jim Kukral @JimKukral, CEO at FunnerVids.com

 
View the full Visual Content Marketing eBook here:
Visual Content Marketing Strategy eBook #CMWorld fromTopRank® Online Marketing
A Visual Content Marketing Strategy is the third in our series of 4 Content Marketing eBooks featuring a selection of speakers from #CMWorld. These eBooks cover Strategy, Audience Development, Visual Content and ROI.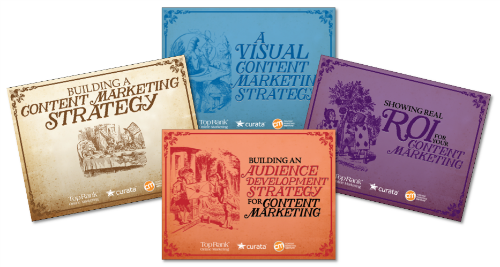 You can find the first two eBooks here:
Seeing is Believing. This series of eBooks is a result of TopRank Online Marketing partnering with us at the Content Marketing Institute, along with our sponsor Curata. This eBook series serves as a great example of how we create, collaborate and curate content to promote the largest conference on content marketing in the world. 
The next eBook in the series to publish will be Showing Real ROI For Your Content Marketing featuring content marketing insights from experts that include: Nicole Smith from Dell's TechPageOne, Joe Pulizzi from Content Marketing Institute, Jay Acunzo from NextView Ventures, JoAnn Sciarrino from UNC Chapel Hill, Michael Brenner from NewsCred, Andrew Davis from Brandscaping, Julie Fleischer from Kraft Foods, Robert Rose from Content Marketing Institute, Pawan Deshpande from Curata and Ardath Albee from Marketing Interactions. 
Watch for the last Content Marketing ROI eBook to post here, on Monday August 25th. You won't want to miss it! 
But wait…there's more from TopRank! 
Lee Odden will be giving a presentation at Content Marketing World September 9th at 3:30pm (Content + Influencer Marketing = A Powerful Way to Grow Your Business) on how to connect with industry influencers to co-create amazing content to grow your business. 
Susan Misukanis and Lee Odden are also giving an industry lab workshop: Content Marketing for Technology and Software companies on September 11 with guest speakers from Dell (Connie Bensen), LinkedIn (Koka Sexton and Jason Miller) and Pam Didner, previously with Intel and author of the new book, Global Content Marketing. 
We'll see you at Content Marketing World in Cleveland, September 8-11. Not registered? Use code "TopRank" for $100 off your registration.
Posted August 20, 2014 in: Event by Cathy McPhillips
---