Content Marketing World is part of the Informa Connect Division of Informa PLC
This site is operated by a business or businesses owned by Informa PLC and all copyright resides with them. Informa PLC's registered office is 5 Howick Place, London SW1P 1WG. Registered in England and Wales. Number 3099067.
Visual Content Strategy that Scales: A #CMWorld Chat with Buddy Scalera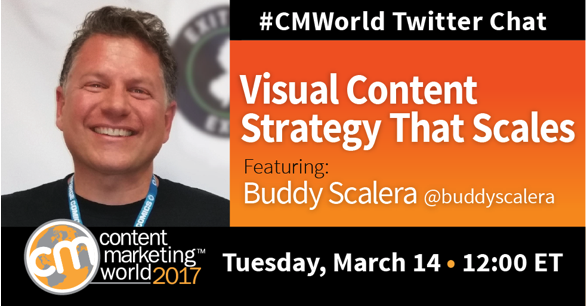 These days, words aren't enough to keep customers engaged. As a result, marketers are creating more visual content to captivate audiences. Visual content provides huge opportunities for brands. Yet it can present many challenges to their content marketing efforts. How can today's marketers find success? To find the answer, we invited special guest Buddy Scalera to join us on a recent #CMWorld Twitter chat. Scalera is a healthcare content strategist and comic book writer. He discussed how brands can empower themselves to create good visual content and how they can scale it across the organization. Our Storify recap also provides additional thoughts, so be sure to check it out.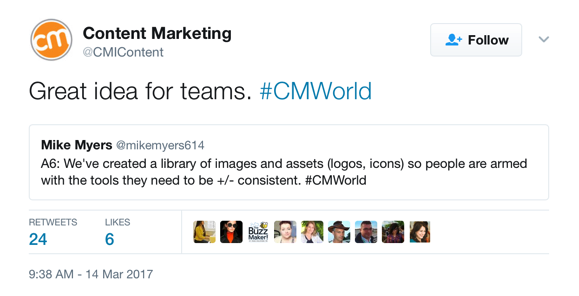 Map out the user's journey
Content marketing helps us engage customers at various stages of their journey. But determining which type of content is effective at each stage can be a problem. Understanding your audience will help you craft a documented content strategy that can include your visual content efforts.
Be a storyteller
Content marketing is about telling a story, and visual content can help brands evoke emotion. With these tips from our community, marketers can produce powerful visuals that leave an impression.
Have you seen good examples of visual content you'd like to share with our community? Let us know in the comments below. Don't rely on a stock photo. Smile big and take a picture with Buddy Scalera in real life. Meet him at Content Marketing World in September. Sign up with code SM100 to save $100 at checkout.
Posted March 16, 2017 in: Event by Monina Wagner
---
UP