In order to offer attendees an invaluable experience, the Content Marketing Institute brings the industry's top experts to our conferences. We search for a diverse group of speakers and leading brand practitioners to address all aspects of content marketing. Do you think you got what it takes? Great, we want to hear from you! On this Ask the CMI Team, Speaker Engagement Manager Andrea Larick gives host Amanda Subler the secret to success.
Key takeaways from the interview
The more original your presentation is the better.
Think video, then timeliness.
Don't worry. No sock puppets needed.
Amanda Subler: Today, we are talking about speaking. I don't know about you but I have a fear of public speaking. This is easy because I can't see any of you. I can just see my front lawn and my computer screen.
But if you are interested in speaking or a speaker yourself, at CMI we run two events. Our event called the ContentTECH Summit and of course Content Marketing World, the largest gathering of content marketers in the world. So if you've ever thought of speaking at one of our events or really just any event, we're going to share with you what our speaker expert – we have a great expert here at CMI – what she looks for in a good presenter. And hopefully, you would hope you make it to one of our orange stages.
I don't know if you know much about Content Marketing Institute. We love the color orange here. So if you do become a speaker you have to buy a pair of orange pants to speak at the event. I'm just kidding. But if you do buy a pair orange pants and show up, you might get a little special pin and be inducted to our Orange Pants Society.
So we're always looking for new, diverse speakers to join our events. We have a question of the day.
What do you think makes a good speaker?
I don't know about you, but I think more people over this last year probably tuned in to virtual events so you've probably seen different speakers and presenters. So what sort of speaker engages you? What really captures your attention?
We're going to dive into that a little more deeply today. As I said, we have a couple events coming up there will be looking for speakers. So what better time than now to have our very own CMI Speaker Engagement  Manager Andrea Larick with us. Andrea has "the in" on what our selection panel looks for in speakers and presenters. Good morning, Andrea!
Andrea Larick: Hi everybody!
AS: Thank you so much for joining us today! You've reviewed – I can't even probably name the number of speaker presentations over the years. So what do you and the panel think makes a good proposal?
AL: I'm going on my 10th year now with CMI. So I have definitely read a lot of proposals. We do have a committee. It's not just me, and we sort of have a couple of items to check off.
First, I would say is original content. We get some submissions that say, "I presented this session for the past five years." And while I'm sure it's great, it's probably perfected and clean, and the speaker you know has it memorized, we want something new and original. So that's the first item.
Definitely diversity. Our audience is diverse. Our community is diverse. We want unique topics. We want to represent everyone. So we definitely look for that.
Another thing we hear all the time from our attendees is they love the "how to" education they leave with from our events. They want to learn from the experts on how they did something so that when they get back to their computer, or reading their on their computer, they how to implement those.
And last but probably most important is personality. We do get hundreds of submissions which is fantastic. But the ones that really stand out just have a lot of personality. Those are the ones that we talk about when we're in our meetings.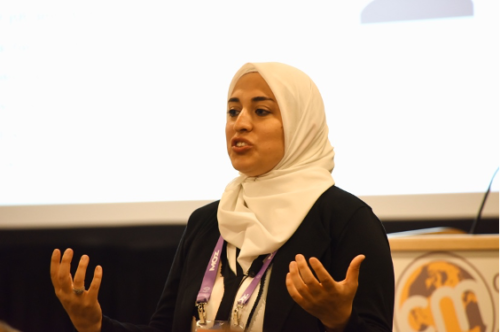 AS: The aspirational ones are great, but like you really want, "OK I see how you did it." So now I can take what you learned and take what you did and I can go back and apply it in my job.
Now of course many events, including ours, have gone fully virtual or even hybrid, a little bit of both. So how has that changed what you look for in a presenter or a presentation?
AL: Well, I think the same criteria matters for in-person versus virtual or hybrid. In 2020, we had both of our event agendas complete before we even knew what COVID-19 was. So once we made the change to do digital events, it was a learning curve for everyone.
I think the biggest takeaway is just engagement. When you're a speaker looking at a green dot and trying to figure out who is even behind the screen? Is anyone even watching right now? It's hard for the speakers. So trying to get them to be engaging so that the audience listens to their session and watches and still learn something, that's really important.
So we require videos with our speaker submissions. And I think now even more than ever, those are very important just so we can see how people are on camera.
AS: I know, even though I don't speak very much in public on a stage, but I'm sure you get the energy from the audience to that's a little different. You feed off of that. But in this world that we're living in right now, you really have to figure out how to do that even though you're just staring at the screen and not like real people, real faces. Of course that's hard.
Can you share maybe in you know examples of presentations or what makes the presentation stand out to you? What does your ideal submission look like? What makes you kind of stop and go, "wow that's different! That would be really good for our audience."
AL: Well, I think because we see so many, there is one field on the submission form that says "please let the committee know why you should be selected and be creative." Some of those responses are the best and sort of what keeps people at the forefront of your mind. I'll never forget one of my favorites. It was like seven or eight years ago when I was still doing this with Joe Pulizzi. One of the submissions was a song. Someone wrote a song and played the guitar and sang a song as to why he should be selected. And he was because it was super creative. We all just loved it. And I know not everyone is a singer-songwriter. We've seen sock puppets, cool filters, jugglers. I mean, we've seen it all, and we remember those. So be creative.
AS: At Content Marketing World, some of the speakers that really went a little bit over the top were the ones that everyone was raving about. I know it's not easy for everyone to maybe add a little production into their videos or their presentations, but it was just you can tell that they thought a little bit more than just their slides and them on camera. So I know that's hard, but definitely now it's just so important to engage people.
Kathie wants to know – can you give us advice on the video. Can it be a self-recording from a Zoom call. She has a lot of speaking experience but no recordings of them. So are you looking for examples from their past speaking events or can it just be something completely different?

AL: This is actually a great question. My personal opinion, obviously there's more than just me reviewing all of these, but I love the iPhone videos – the two minute recordings of someone just talking to the selection committee saying why we should pick their session. Obviously, the recordings from previous events are great. We can see people on stage. But we don't know what the future holds. So if it's just a video of the two of us talking, then I get to meet who you really are and we get to see your personality. And to me, I think that that's a better video. So great question.
AS: So if someone wants to apply to speak at one of our events – either our ContentTECH Summit or Content Marketing World – give me the rundown exactly on what they need to do. What's the process to be considered.
AL: So ContentTECH Summit is currently open for speakers. That closes on Friday. The submission form really just requires specific information your session: title, description, bio, photo, past speaker experiences, definitely the video that is most important.
I think the second most important is timeliness. Just make sure you get it in on time. We don't accept late submissions. The call for speakers for ContentTECH closes on Friday. On Monday, we're going to start reviewing and putting the agenda together. So timeliness is key, and video is probably next best. Just make sure you fill out everything that's required because we do read every single one. We talk about them. We evaluate them. So just go through what we're asking for.
Content Marketing World opens next Monday, February 8th. It will be open for a month. That link you can find on our ContentMarketingWorld.com.
AS: What do you think, on average, how many submissions do we usually get for Content Marketing World?
AL: We get upwards of 400. They're all legit. And one person might submit five. There's a lot to go through. And I guess the thing to that I'd like to say is we do review them all. They're all great, but we only have so many slots. We can't have a two week conference. So even if you're not selected this year doesn't mean that it was not a great topic or we didn't like your submission. It just didn't work with the parameters that we have to work with right.
AS: So if you're if you're going through 400 submissions, they really need to stand out.
Cam wants to know but he's asking if CMI our audience wants to hear from martech or adtech vendors particularly in the marketing space. And I would say yes, but what we can say is we can't sell to the audience.

AL:  Any submission that comes in that looks like a sales pitch is honestly just discarded. We find that attendees actually get really mad about that. So if we're virtual, they won't watch. If we're in-person, they'll leave your session and you might end up with just the one or two people who are embarrassed to walk out.
That's not productive for anyone. We want to provide something educational, and it doesn't come across that way.
AS: For sure educational. Everyone sees through a promotion or sales pitch. I think everyone does but particularly our audience is pretty savvy when it comes to that. So yes, we're always education first. If you have practical advice or case studies are great and share with the audience. We love that as well.
Alright Andrea. So like we said our call for speakers for ContentTECH is currently open. ContentTECH is in June and all virtual. Then Content Marketing World will be in September and so our call for speakers opens on Monday [February 8]. So look on our social sites. Make sure you subscribe to our newsletter so you can get all the information on that.
One more quick question. Andi wants to know: "If we have more than one idea for a presentation, should we fill out multiple submit submissions or we can we put them all in one submission?"

AL: Good question. I would fill out a submission form for each topic you have. If they all get blurred together, sometimes it's not clear to us if this is supposed to be a workshop, which is lengthier and you know requires some more time. It's easier for us to go through if there are multiple forms filled out.
AS: Peter's asking about the health care industry. Do we want submissions for that?
AL: Yes. We do have typically an industry forum on Friday put on by the Cleveland Clinic. It is healthcare related completely. But yes, any industry we will take submissions from. We'd like to hear how everybody's working on their content marketing strategies in any industry. So yes, please!
AS: Right. Our attendees are from all different industries as well.
I think that covers it for today. Andrea, thank you so much for joining us.
This is a brief transcript. To hear specific feedback on a written draft, watch a replay of the livestream.
Do you have a great session topic for our ContentTECH Summit attendees?  Our call for speakers submission will close February 12, 2021. Submit your proposal today! Our Content Marketing World call for speakers will open February 8, 2021.
Posted February 2, 2021 in: Event by Monina Wagner
---