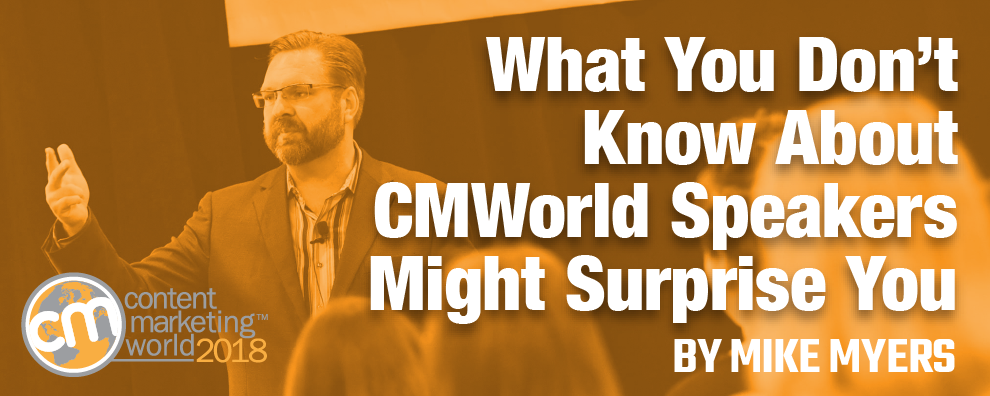 You see them on stage, you listen to them and learn from them…but did you ever wonder what the speakers at Content Marketing World are really like? Like, really?
Us, too. So, we asked a few colleagues of some well-known speakers exactly that. What are these people like when they're not presenting? What's it like to work with them in an office setting? What do they do for fun?
We found out some interesting things. But, mostly, we found out that the pros who speak at CMWorld are exactly what you see…and so much more.
CHRISTIN KARDOS: MEET JAY BAER
We talked to Christin Kardos about Jay Baer, President of Convince & Convert:
CMWORLD: Jay loves to talk about small businesses and how they've succeeded. Where do you think that comes from?
Christin: Jay grew up in the restaurant business. His parents owned a bar in Lake Havasu (which may also explain his love of tequila).
CMWORLD: He's also big on customer service, especially in social media. Any idea where that comes from?
CK: His first job was at McDonald's and that's where he learned a lot about serving customers and he still has a passion for great customer service today.
CMWORLD: What does he like to do away from the office, other than collect tequila?
CK: He's an avid "Indie" music fan. He knows all of the under-appreciated, small venue bands and supports them regularly. He's also a certified judge of barbecue!
CMWORLD: What does he listen to?
CK: His musical tastes are all over the place, but his favorite band of all time is Radiohead.
CMWORLD: Jay also seems to know his grammar. Was he ever a teacher?
CK: I think he views what he does today as similar to teaching – sharing his knowledge with others is important to him. But his strong grammar game comes from his mother, who was an English teacher.
CMWORLD: Ah, that explains it. Thanks, Christin!
Connect with Christin on Twitter
Connect with Jay on Twitter
ERICA DONALDSON-DIPYATIC: MEET AMANDA CHANGURIS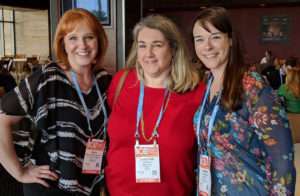 We talked to Erica Donaldson-Dipyatic about Amanda Changuris, Associate Director of Corporate Communications at BNY Mellon in Pittsburgh:
CMWORLD: So, just curious, does Amanda like a particular hockey team?
Erica: Like? Like might be an understatement. It's undeniable who is Amanda's #1 team; she's a HUGE Washington Capitals fan. HUGE! She represents her home team proudly, living now in Pittsburgh – enemy territory.
CMWORLD: So, huge fan of the Caps – she must be pretty happy since they (finally) won the Stanley Cup this year?
EDD: Go look at her Twitter feed.
CMWORLD: How did Amanda get her start in the business world?
EDD: She actually started her career in front of the camera, as a news reporter. She moved to Pittsburgh to become a social media maven.
CMWORLD: And that seems to be working out quite well for her.
EDD: Yes. Again, see her Twitter feed. 🙂
CMWORLD: What does she like to do outside of work, other than watch the Caps win the championship, of course?
EDD: She loves to travel, snorkeling is a passion, and she enjoys a good night at the gym.
CMWORLD: So, she could play for the Caps, if they needed her?
EDD: I'm sure she would be ready.
CMWORLD: Anything else about Amanda people would find interesting?
EDD: She and her husband have a cat who turned 16 years old this year. They love their fur-teen.
CMWORLD: Is her cat also excited about the Caps?
EDD: Ecstatic.
CMWORLD: Thanks, Erica!
Connect with Erica on Twitter
Connect with Amanda on Twitter
KERRY O'SHEA GORGONE: MEET ANN HANDLEY
We also spoke with Kerry O'Shea Gorgone about Ann Handley, Chief Content Officer at MarketingProfs.
CMWORLD: So, Ann seems like such a nice person. Is that really who she is?
Kerry: Ann's a big softie. She has a great, acerbic wit – which sometimes masks her big heart – but talk with her for even a few minutes and you'll see. She's generous with her time and advice, almost to a fault.
CMWORLD: But there must be something.
KOG: No, unlike some presenters who jet in for an event then immediately leave, she stays, supports her fellow speakers, gets to know the attendees and the organizers.
CMWORLD: Truthfully, we can't say we're surprised at all.
KOG: She doesn't just present, she IS present.
CMWORLD: Oh, good one!
KOG: Thanks.
CMWORLD: Now, seriously, give us something we can print. What's the dirt?
KOG: Okay, Ann loves dogs, hates breakfast, and steals napkins from classy restaurants (keep an eye on her at the speaker dinner).
CMWORLD: Now we're getting somewhere. How can she hate breakfast?
KOG: She seriously hates it! The smell of scrambled eggs grosses her out. Could be she's just not a morning person. She does frequent Starbucks, but only on days ending in "Y."
CMWORLD: Ah, got it. Now what about this napkin thing?
KOG: We spent a crazy weekend in Charleston a few years back and that's when I first learned about her napkin nicking habit.
CMWORLD: Is this documented anywhere?
KOG: https://www.instagram.com/explore/tags/kerolann/
CMWORLD: Now, we're talking. What else have you got on her?
KOG: Her jokes make the most mundane meetings fun. I'm grateful we don't have a proper HR department at MarketingProfs or they might put a stop to them!
CMWORLD: Please continue. What's something that no one knows about Ann?
KOG: Really, if you're looking for deep, dark secrets, you won't find any (except maybe the napkin thing). With Ann, what you see is what you get: she's the same at work as she is everywhere else! A kind, smart, funny lady. I'm so happy to know her!
CMWORLD: We are, too! Thanks Kerry!
Connect with Kerry on Twitter
Connect with Ann on Twitter
BERNIE BORGES: MEET VIVEKA VON ROSEN
We also spoke with Bernie Borges, CMO and Co-founder of Vengreso, about Viveka von Rosen, renowned LinkedIn expert and Chief Visibility Officer and Co-founder of Vengreso.
CMWORLD: So, we hear Viveka is a LinkedIn expert – in fact, that's even her Twitter handle! Is she really an expert?
Bernie: Yes. She knows LinkedIn perhaps better than anyone I know. She's actually written two books on it and LinkedIn often asks her to contribute on their blog. She uses the experience she's gathered from more than 10 years with LinkedIn and offers training to help others use it successfully, too.
CMWORLD: Impressive. Do you have the book titles in case people want to check them out?
BB: Sure, LinkedIn Marketing: An Hour a Day and LinkedIn: 101 Ways to Rock Your Personal Brand! Both are great reads.
CMWORLD: Thanks. Now, what is Viveka like outside of work?
BB: Well, outsideis an appropriate way to ask that question. Viv is an avid outdoorswoman. She skis and hang glides – and she's expert at both sports. She's fearless…I spent one day on the slopes with her in February and we had a total blast! (see photo).
CMWORLD: Very cool. What else would you share about her?
BB: Viv is so full of energy and laughs. She's always laughing. One can't help but feel good in her company. Her laugh is truly contagious.
CMWORLD: That's great. Thanks Bernie!
Connect with Bernie on Twitter
Connect with Viveka on Twitter (or LinkedIn!)
ASHLEY ZECKMAN: MEET LEE ODDEN
We talked with Ashley Zeckman about CEO and co-founder of TopRank Marketing, Lee Odden
CMWORLD: Okay, let's tackle this right away. How do you pronounce Lee's last name?
Ashley: His last name is pronounced OH-DEN not AHH-DEN. You'd be surprised at how often people get that one wrong.
CMWORLD: Thanks for setting us straight. Now, tell us some fun things about Lee.
AZ: Sure! Every time he travels, he makes sure to bring some new exotic coffee or special treats back for the team from wherever he's been.
CMWORLD: That's awesome! Must be fun for the team.
AZ: It is. And when he is in the office, he's always game to jump in and provide strategy oversight or share his smarts with every member of the team, which you don't find too often in a CEO.
CMWORLD: That's true. So hands-on and helpful. What else?
AZ: Lee strongly emphasizes the need to give back with our team. Each quarter, the team votes on a charity to either donate to or provide some service to. He'll often send emails to the team and make it possible for individual team members to pick where they'd like some additional funds donated to.
CMWORLD: Wow, that's great. Must be great to work with a leader like that.
AZ: Yes. I have never had a better teacher or mentor than Lee. I am honored that I get to work with him.
CMWORLD: Anything else our readers may not know about Lee?
AZ: Well, he started a Facebook group called Marketers with Beards. It currently has more than 300 active participants.
CMWORLD: That's hilarious and fun!
AZ: That's Lee.
CMWORLD: Thanks, Ashley!
Connect with Ashley on Twitter
Connect with Lee on Twitter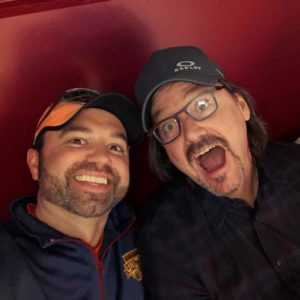 JOE PULIZZI: MEET ROBERT ROSE
And, of course, we couldn't miss the chance to talk to Joe Pulizzi, CMI's founder, about Chief Strategy Advisor Robert Rose.
CMWORLD: Joe, thanks for talking to us about Robert.
Joe: Well, I can try. I mean, I haven't seen him in a while.
CMWORLD: Let's give it a shot, okay?
JP: Alright.
CMWORLD: So, you and Robert co-authored a couple of books together, what was that like?
JP: Oh yeah, I had forgotten about that. It was fine. (Joe is a jokester – check out their best-selling book)
CMWORLD: Okay, let's try this. What can you tell us about Robert that we may not know?
JP: Well, I know he secretly wants to be Tony Romo.
CMWORLD: The former Dallas Cowboys football player?
JP: Yes.
CMWORLD: Alright. Anything else?
JP: I do remember he absolutely despises Cuervo tequila, but loves good tequila.
CMWORLD: Good to know.
JP: Oh, and he secretly sells original songs on SoundCloud.
CMWORLD: Got it. Thanks, Joe.
Connect with Joe on Twitter
Connect with Robert on Twitter
What other speakers should we know a little more about? Leave a note in the comments if you work with one of our 250+ speakers, and let us know what they're like, both in the office and out. We enjoy seeing the diverse speaker line-up, their hobbies and interests, and so much more.
To learn from (and actually get to speak with and learn more about) these speakers and hundreds of others who are committed to helping you up your content marketing game, join us at Content Marketing World 2018, September 4-7 in Cleveland. Code BLOG100 saves $100 off your registration, so sign up today!
Posted June 28, 2018 in: Event by Mike Myers
---