As the great Robert Rose says in his weekly podcast, "and that's a wrap!"
Or is it?
I can't believe it's been almost three months since Content Marketing World. After four days of keynotes, workshops, sessions, and labs, we bid goodbye to our colleagues and friends.
But the story doesn't end there. Most of us headed back to our offices and hit the ground running. For the CMI team, that meant going through our notes and planning for CMWorld 2020.
Today, we're getting ready to open the orange doors for our tenth year. As if that didn't excite me enough, I took time this week to go through post-event articles. Many were from first-time attendees.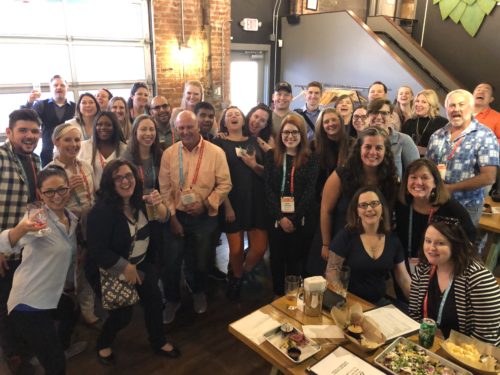 We try to prepare newbies with event secrets, advice on session selections, and local restaurant suggestions. These insider tips from repeat attendees can be helpful to newcomers. But what if we told this narrative from the perspective of first-time attendees? Did they walk away with learnings we hadn't considered? Could we find something valuable in their experience that – after all these years – we now take for granted?
Here's a list of some insightful, motivating and inspirational articles I found written by newbies. (I'm happy to report they all loved their time in Cleveland.)
Conference alumni Andi Robinson also wrote about the event. I found it interesting what she observed.
There were a lot of first timers this year. It would be interesting to know how many exactly and how it compared to previous years. It seems like people are still discovering this event, which is good news!
I'm not sure how the numbers work out. What I do know is whether you are a first-time attendee or a seasoned veteran, you will always find like-minded professionals to connect with. Thoughtful conversations and new perspectives can reinvigorate our content marketing. That's powerful stuff.
Do you remember your first time CMWorld? Tell us about your experience below.
Ready to join us for the tenth annual Content Marketing World? Mark your calendars for this Monday, December 2, 2019. Registration opens and will include our lowest event rates. We hope to see you there!
Posted November 29, 2019 in: Event by Monina Wagner
---