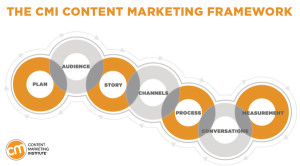 CMI defines content marketing as:
The strategic marketing approach of creating and distributing valuable, relevant and consistent content to attract and acquire a clearly defined audience – with the objective of driving profitable customer action.
What does this mean for marketers today? 
Consumers expect more from brands today. Gone are the days of one-way communication, brands "yelling" at customers to buy, buy, buy. They want to build relationships and get to know brands before they're all in, especially for B2B companies or bigger ticket purchases. With so many ways to communicate and get to know about products and services and their companies, the old way of advertising just isn't working.
Customers can not only "zip and zap" through commercials – taking me back to my days working at an ad agency when we were concerned with people recording their shows on VCRs and fast forwarding through commercials. Then in 1999 when TiVo launched, the broadcast world changed forever.
Smart marketers understand that traditional marketing becomes less and less effective by the minute, and that there has to be a better way.
What is that better way? Enter content marketing. 
Basically, content marketing is the art of communicating with your customers and prospects without selling. It is non-interruption marketing. Instead of pitching your products or services, you are delivering information that makes your buyer more intelligent. The essence of this content strategy is the belief that if we, as businesses, deliver consistent, ongoing valuable information to buyers, they ultimately reward us with their business and loyalty.
Truth be told, that's how I found out about Content Marketing Institute back when I was a brand marketer, community manager and media planner. I read all of their blog posts, attended many webinars, subscribed to the magazine, digested all of their content to educate myself and do my job better, and I planned on investing in a Content Marketing World registration, but lucky me, I started working for them instead!
So that's NOT a traditional customer journey, but  in all seriousness, I really had a chance to learn about CMI and learned so much from them, and in turn they learned ALL about me through webinar registrations, ebook downloads and social interactions. We both learned about each other. THEN, when I was ready to attend CMWorld (their paid product), I knew I would it would be worth the investment because I trusted them.
It seems so logical, doesn't it? It does, but it's not that easy. Thankfully, we have great industry peers who have helped us pave the way and have taught us through example. There are some great case studies, and tangible lessons that I've heard from so many in our industry, and usually it's been through sessions at Content Marketing World.
Visit CMI's website to get started on your content marketing journey (or even take time for a refresher or gut check), and then consider joining us at Content Marketing World 2016. Over 4,000 of our industry peers will be together to learn from not only some of the smartest brand marketers in the business in over 100 sessions, but also learn from other attendees. It will be a #CMWorld like no other.
Register today for Content Marketing World 2016! Our Super Early Bird rate goes away on 2/29/16, and as an added bonus, use code BLOG100 for an additional $100 off of those rates. We can't wait to see you! 
Posted January 13, 2016 in: Event by Cathy McPhillips
---