After an unexpected – some may even say chaotic – year, many marketers are ready to say "see ya" to 2021. But turning the calendar doesn't mean we can go back to how things were.
Content Marketing Institute General Manager Stephanie Stahl asked over 100 marketers what the next 12 months will hold for the industry. (You can see the full list of predictions here.) Some answers offer insight into work that needs to be done. There were other predictions that draw attention to current trends that will continue in 2021.
Stephanie spoke with the CMWorld community about their own predictions. We'll share a few highlights here. How do you think 2021 will play out?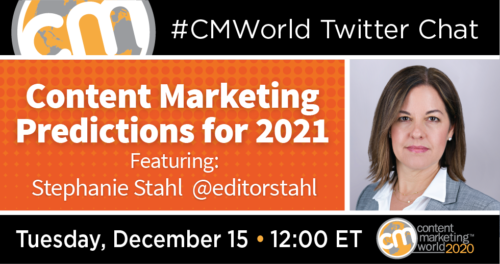 No one saw COVID coming. Yet some of last year's predictions still hold. What content practices or trends continued to grow in the last 12 months, even through the pandemic?
Hindsight is 20/20. (Get it?) A year ago, content marketers cast their predictions. Some answers would now seem overly optimistic. However others were spot on.
Rachael Sullivan says 2021 will be the year we see brands fully embrace content with a conscience. Do brands need a cause? How are you planning to bring more of a conscient to your content in 2021?
Most chat participants agreed the major events that shaped 2020 has pushed brands to take a stance on social issues. But our community said to move forward with caution. Your content should be genuine and not forced.
A. Lee Judge thinks we'll see more off-the-cuff, rough-around-the-edges content. How can content teams help SMEs, execs, or clients get comfortable with the idea that good enough may be better than perfect?
Our community believes unpolished is where it's at. Show your SME examples of authentic content to convince them of its benefits.
Monina Wagner believes we'll see a rise in private social media communities. What groups (Facebook, Slack, Discord, etc.) are you a part of? Can branded communities still be built? Or is it too late in the game?
It's true. I don't believe it's too late to foster a community. But brands must remember it takes time to build. Communities don't grow exponentially overnight. During the chat, I had a conversation about building communities on social media. It served as a good reminder: Be where your members are. Don't alienate those who are not active on social, particularly during this time of COVID.
With in-person events on hold, Vishal Khanna says sales will need marketing's help even more in 2021. How can we empower sales enablement teams to use content to fill communication gaps?
One of the biggest hurdles brands have is getting sales and marketing to work together. This relationship is important, but it can be tough to forge.
Tim Hanse predicts audiences will ask for new ways to interact with brands. How do you assess what technology you will need? What emerging tech are you looking forward to testing?
There will always be excitement around something new and shiny. But our community warns to take a step back, identify your needs, and fill the gaps you may have.
With ongoing turbulence likely in the near term, Andrea Fryrear expects to see more content experiments in 2021. Professionally or personally, what new ideas would you like to try in the new year?
I love that we received a wide array of answers. Marketers are fearless! I may be biased, but Cathy McPhillips' response is my favorite. We're getting rid of the we've-always-done-it-that-way mentality to make sure 2021 is CMI's best and most innovative yet.
What do our chat participants predict for the coming year?
Do you agree with our community members? What's your prediction for 2021? I'd love to read them in the comments below.
We predict you'll want to tweet with us in the new year. The #CMWorld Twitter Chat resumes January 5, 2021 with a spectacular lineup of guests. Tweet with Bernie Fussenegger, Kendall Aldridge, James Tennant, Megan Ingram, Cathy McPhillips, Jennifer Watson and more!
Posted December 16, 2020 in: Event by Monina Wagner
---