Content Marketing World is part of the Informa Connect Division of Informa PLC
This site is operated by a business or businesses owned by Informa PLC and all copyright resides with them. Informa PLC's registered office is 5 Howick Place, London SW1P 1WG. Registered in England and Wales. Number 3099067.
What Marketers Need to Know About TikTok: A #CMWorld Twitter Chat with Lauren Pope
You've likely heard of TikTok. Maybe you watched a few videos with the kids. You may have even downloaded it for yourself. But now that TikTok is receiving more attention – from marketers and government entities – you may be asking how the platform should fit into your content efforts.
Content marketer by day, TikTok creator by night, Lauren Pope brings a unique perspective to the table. That's why we invited her to a recent #CMWorld Twitter chat. And did we mention Lauren grew an audience of 70,000 followers organically on the platform in under a year? She's definitely one we wanted to talk to.
What follows is a brief look at our discussion.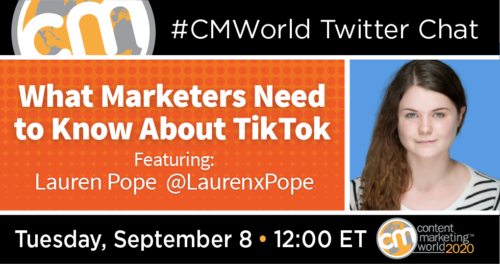 What questions should you ask when deciding if a social media platform like TikTok fits into your content marketing strategy?
What kind of content performs well on TikTok? Are there industries that better lend themselves to TikTok than others?
Is it best for brands to start their own TikTok channels or should they first work with established influencers?
Think you're ready to dance with TikTok? Get going with a look at every tweet from this chat or check out "The What, Why, and How of TikTok for B2C Brands [Examples]" to get you going.
If you're looking for a conference that will give you smart strategies and actionable tactics, then you won't want to miss Content Marketing World. Use discount code SM100 for $100 off at checkout. There's still time to register!
Posted September 9, 2020 in: Event by Monina Wagner
---
UP