Content Marketing World is part of the Informa Connect Division of Informa PLC
This site is operated by a business or businesses owned by Informa PLC and all copyright resides with them. Informa PLC's registered office is 5 Howick Place, London SW1P 1WG. Registered in England and Wales. Number 3099067.
What We Learned at Content Marketing World 2020: A #CMWorld Twitter Chat with Kim Moutsos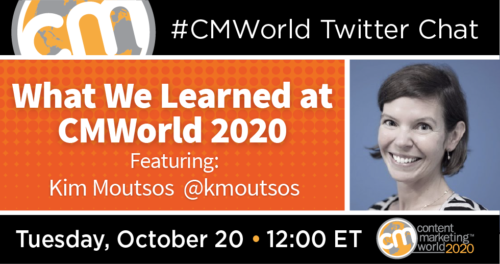 It's thrilling. It's exciting. It's glitzy. But it's not Vegas. What happens at Content Marketing World should not stay at Content Marketing World! Our speakers generously share their expertise. Our attendees talk about their learnings. And every year, our community gathers a week after the event to chat about how we can act.
CMI's Vice President of Editorial Kim Moutsos and Vice President of Marketing Cathy McPhillips (behind the CMI Twitter handle) led a terrific post-conference conversation on a recent #CMWorld chat. What follows is a brief recap. There was so much information exchanged that we curated all of the tweets sent during the fast-paced hour. Be sure to check out our Twitter Moments, split into two parts: Questions 1-4 and Questions 5-7.
studioID's Alex Cheeseman says the most dangerous words in modern business are "we've always done it this way." What are ways leaders can inspire a culture of change?
Starting a blog taught Luvvie Ajayi Jones how to speak the truth "out loud in public without shame." How can marketers be truthtellers and be more strategic in creating more authentic content for our audiences?
At CMWorld, Sydni Craig-Hart talked about the opportunity we have to be advocates for diversity every single day: "Lead from where you sit, no matter what your title happens to be." What is one actionable thing you can do today to help bring about more inclusion in content?
What was your most memorable CMWorld moment? What keynote or session inspired you? Tell us in the comments below.
CMWorld may be over, but the learning doesn't have to stop! CMI offers in-depth instruction year-round. Check out Content Marketing University, our Whitepaper Library, and our schedule of free webinars.
Posted October 21, 2020 in: Event by Monina Wagner
---
UP