For 40 hours a week, it's your sanctuary. We eat, (wish we could) sleep, and breathe from here. Your office serves a need. But it also allows you to flaunt a little personality. The space reflects who you are and what you do.
Because I telecommute, I don't have to worry about the appearance of my workspace. I don't have coworkers or clients to impress. But that doesn't mean I don't like an attractive office. I spend a lot of time at my desk because I work in social media and spend most my day on my laptop. A tidy, organized space makes me want to sit there.
Several years ago, I downsized, and there were perks to going smaller. I don't have space to keep extraneous things. The office has minimal décor. And you will never find a dirty coffee mug or papers strewn about. My tiny office gives me an excuse to pare things down and keep focused on matters at hand. For me, less clutter equals more productivity. I practice feng shui. My laptop rests on a corner of my desk promoting creativity. Books are carefully placed in a spot where knowledge reigns. Everything has its place.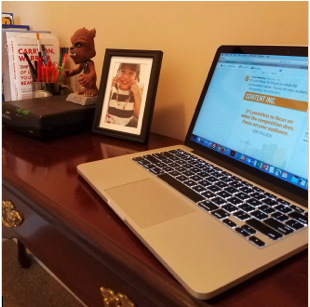 My desk sits in a cramped, windowless alcove. The space provides privacy away from the hustle and bustle of my home. Its small footprint makes me constantly edit what's on my desk.
The most important items in my office, (computer aside) include:
A framed photo of my daughter
A Chewbacca bobblehead
Because little sunlight enters my office, my daughter's photo plays a key role in my productivity. I captured the picture several years ago during my daughter's first visit to the Jersey Shore. I taste the salty beach air and hear her running down the boardwalk each time I catch a glimpse of the photo. It's a fleeting moment of contentness, but one that urges me to continue working.
When I hit a wall and creativity stalls, I truck through with a little music. (I have blood-pumping, motivating playlists if you're interested. My favorite song to get me going: Spice Girls' Wannabe.) I end up dancing in my office and tapping my Chewbacca bobblehead to the beat. His ridiculous nod pushes me past most mental blocks.
I once worked at an advertising agency where I sat in a semi-private office. I was given a large wood cabinet, dry-erase board, and papasan chair – quite different than what I have now. Thinking back, it made me realize our defined workspaces are a very personal matter. Our offices can vary by industry, size, or taste in décor.
Now, I challenge you to share what your workspace looks like. Each month, I'd love to peek into the professional life of a #CMWorld community members. Want to be featured? Email me with a photo!
Posted February 21, 2017 in: Event by Monina Wagner
---