Content Marketing World is part of the Informa Connect Division of Informa PLC
This site is operated by a business or businesses owned by Informa PLC and all copyright resides with them. Informa PLC's registered office is 5 Howick Place, London SW1P 1WG. Registered in England and Wales. Number 3099067.
What's PR got to do with Content Marketing? A #CMWorld Twitter Chat with Michelle Garrett
Peanut butter and Jelly. Cookies and milk. Wine and cheese. PR and content marketing. Some things are better together.
No one knows this better than Michelle Garrett, a freelance writer and public relations consultant. Michelle has visited Cleveland for Content Marketing World several times, as an attendee and a moderator. Michelle is often asked why a PR pro would attend a content marketing event. She says the answer is clear; public relations experts can learn a lot from marketers and vice versa.
To discuss this further, we asked Michelle to chat with our CMWorld community. Before today, you might have not realized the benefits of bringing these two strategies together. What follows is a brief look at why your content and PR teams should tap into each other's expertise and drive toward similar goals.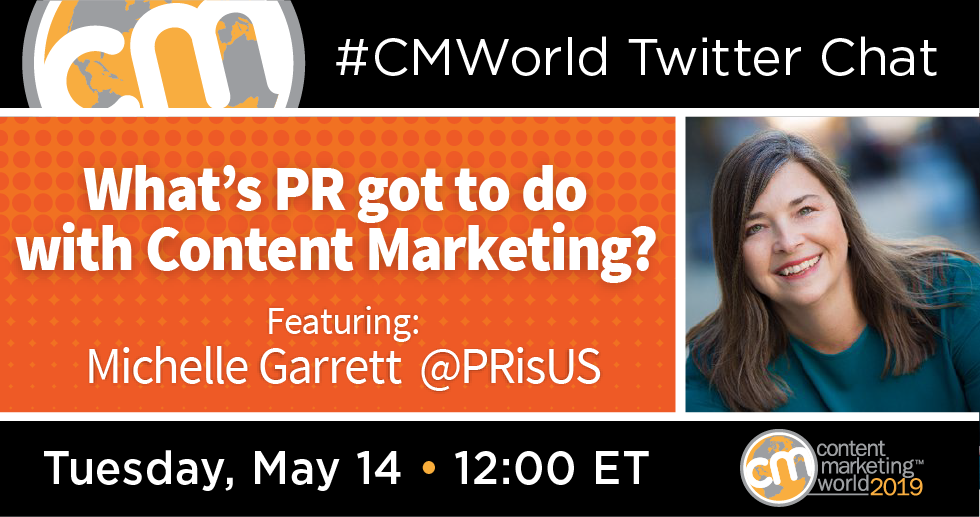 What role can PR play in helping content marketers create content?
Conversely, in what ways can content marketers collaborate with the public relations team?
Interested is reading more tweets from the #CMWorld Twitter chat? Check out our Twitter Moment.
How are you bridging the gap between your organization's public relations and content marketing teams? Let us know in the comments below.
Teams that learn together, stay together. Gather your organization's best talent and attend Content Marketing World in Cleveland, September 3-6. We offer discounts for groups of four or more!
Posted May 17, 2019 in: Event by Monina Wagner
---
UP