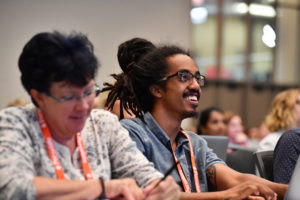 If content marketing is any part of what you do, Content Marketing World is for you. No matter what role you play – from CEO to content creator and everyone in between – you'll find ideas, inspiration, and practical tips to apply to your work. And you'll have plenty of networking time to swap ideas with people in similar roles, event speakers, content solution providers, and more. 
Each year, the conference attracts a mix of:
Marketing and content leaders and practitioners

PR and communications professionals

Agency leaders who handle strategy or execution for content marketing programs

Creative directors and teams

Independent writers, podcasters, and visual storytellers
B2B. B2C. Agency. Nonprofit. Association. You'll find specialized sessions just for you.
What can you expect from Content Marketing World 2022?
You'll come away from Content Marketing World 2022 excited, inspired, and ready for action. 
Here's a sampling of what you can learn in just a few short days:
What the future of marketing and content strategy look like

How to develop a strategic and documented content marketing strategy to help you get more from your content marketing program

What audiences expect from content experiences today – and how to give it to them in amazing ways

Why content creation is only a small piece of the puzzle and where you should spend more of your (or your team's time)

How to accurately measure the value of your content

How e-commerce, multicultural marketing, digital customer experiences, and branded content fit in this content marketing industry
… and so much more – check the agenda for specific topics and sessions.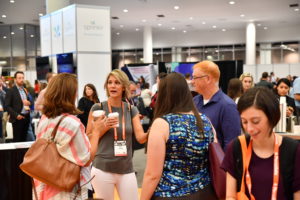 If you're serious about using content to build an audience and create real business results, Content Marketing World is for you
No matter where you are on your content marketing journey – just getting started, in the thick of things and looking to optimize, or well-traveled and in need of new ideas – Content Marketing World offers the best education for you. Attendees always head back to work with smart strategies, actionable tactics, eye-opening inspiration, and genuine connections with the people who are shaping the future of content marketing.
Marketing and content professionals will:
Be better equipped to design and execute successful content marketing strategies for their companies or clients

Increase their overall value

Have the chance to interact directly with many of the industry's most creative and influential people – both our speakers as well as fellow attendees
Company leaders and managers will:
Have a better understanding of how to budget and hire for content marketing success

Gain big-picture perspective that will help them make the right decisions as they guide their departments and organizations forward

Hear first-hand accounts of how some of today's leading B2B, B2C, non-profit brands, and agencies are using content to create market advantage
Content managers and creators will:
Hear exclusive, real-life stories that translate generalizations like "tell stories" into clear, actionable takeaways

Learn exactly what makes the difference between "good" and "great" content

Get proven advice on everything from how to generate crowd-sourced content to how to find their blogging sweet spot to how to scale a content marketing effort and how to manage all the ins and outs of content publishing and promotion on social channels
Content Marketing World 2022 – Register today to ensure your content marketing hits the mark tomorrow. And don't forget to check out the intensive workshops and the industry-specific forums to maximize your experience.
Expect to return to work feeling like this:
Filled with practical ideas you can't wait to share with your boss, colleagues, and team
Ready to (or already starting to) draft a plan for changes that will make a big difference for your business and position you as a leader in your company
Feeling like you now have a vision and a purpose
Hope to see you at Content Marketing World 2022!