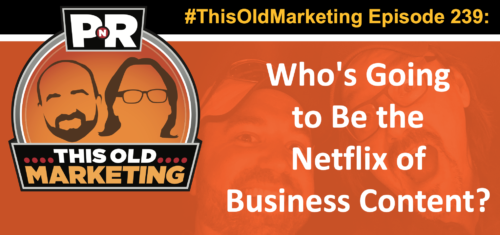 (07:25) Robert discusses Content Marketing Institute's breaking news that Content Marketing World is going virtual.The right decision, says Joe Pulizzi, and the online community agreed. It will be "big, bold and fun," says Robert Rose.
(09:55) Almost all physical events are canceled for 2020. This means there will be a lot of innovation in the virtual events space. This also means a huge opportunity for a large tech brand to become the Netflix for business video content. "The COVID disruption continues to be a reality, and we don't have a concrete timeline for when things will fully return to normal," says Rob Ristagno. Joe says it reminds him of the early days of digital magazines – when people just convert a print publication to digital and expect the same results. We can't do the same with in-person to digital events. We'll need a great amount of innovation and diversification…and marketers need to adapt to a new way of learning.
(23:42) The Girl Scouts are launching a new content brand called CircleAround. Both Joe and Robert love the idea, but the plan has some major flaws – such as being too broad in their targeting. They need to find their niche. Robert says if they do focus on a niche, it could really work. Thanks Will Reed for making sure we say this article.
(31:25) Some publisher content studios are set up to fail, while Facebook faces a serious boycott to its services. Joe says the majority of publishing companies have content marketing as a side project, not as a primary revenue source. It's opportunistic and not strategic, says Joe. Thanks John Chacona for this article.
(48:49) In rants and raves, Robert's Quibi update…plus a rave about Apple's privacy policy (51:52). Joe has a commentary on how he almost gave up on his not-for-profit foundation – but didn't (55:29).
Until the next episode, be safe and healthy, PNR friends.
This episode is brought to you by ContentTECH Summit, taking place digitally, August 10-12, 2020. If you're in the content, technology and strategy space, this event is for you. Code PNR100 saves $100 off your virtual passes.
Posted June 26, 2020 in: Event by Cathy McPhillips
---