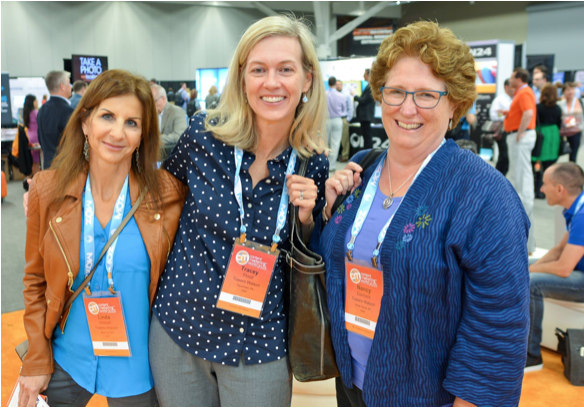 I was on LinkedIn a few weeks ago preparing for our upcoming events – including our flagship event, Content Marketing World – and started thinking about the conference experience. In many ways, it's quite fascinating. I've been to many, many great events. I've even been to a couple mediocre ones. Most of them have been in the good-to-great category. But really – what compels you to invest in a marketing conference – with literally hundreds to choose from each year? I really wanted to know if my reasons were the same as everyone else's. I knew there'd be some overlap, but am I really the typical event attendee? Listen – I've never been called typical, so I thought it best to ask my connections. I posed this question on LinkedIn, and received some great responses.
Why do you like going to marketing conferences?
Why are in-person events important to you?
Their answers:

Jonathan Pogact
Director of Marketing
Fathom: A Digital Marketing & Analytics Agency
"For me it's all about the content when deciding to go to a conference. I look for practical and innovative approaches to reaching audiences who live an an interconnected world. I also enjoy the personal interactions with those I've connected with in the industry via social and meeting new friends. Personal connection in an age where social media leaves little wonder is still important to me."

Lisa Dougherty
Director, Blog Operations & Community
Content Marketing Institute
"For me, nothing beats an in-person event for a few reasons. I tend to learn best in hands-on workshops, where I can focus without any distractions. Also, there's nothing better than being surrounded by like-minded peers. Conversations happen more naturally in person than over the phone or online. The ability to share experiences, learn from each other, and build relationships can't be beat."
Mike Turner
Senior Marketing Manager, Demand Generation
Textron Aviation (A combination of Beechcraft and Cessna)
"In-person events provide the best mix of networking and learned sharing. No other forum provides the basis for uninterrupted learning on a breadth of topics while allowing you to meet a variety of people with a spectrum of backgrounds. I always learn as much from peer conversations as the session topics."

Dave Poulos
Consultant, Author, Speaker, Marketing Solutions Provider and CEO
Granite Partners
"Face-to-Face can't be replaced with a post, a "like" or a share. Humans are tribal, and getting a group of marketers together can generate tremendous creative energy that you won't get any other way. Conferences are a great way to reconnect, benchmark your work, see who's still around, see how the practice is faring . . . Nothing energizes like a great meeting!"

Andrea Fryrear
Content Marketer & Agile Marketing Evangelist
SurveyGizmo and MarketerGizmo
"Cathy, you and I are on similar wavelengths – just did a post about marketing conferences myself 🙂 From a content perspective, I've found conferences to be like a "skip ahead four steps" opportunity for things like guest posting or interviews. You get to bypass a lot of the virtual "getting to know you" dance when you can walk up to someone and say, "I love your stuff. Would you like to be on a webinar with me?"

Bryan Vigue
Vice President of Marketing
REGENESIS
"In-person events allow for uninterrupted times of focus and immersion into a session or panel discussion. In addition I find that just the physical act of being there at an "event" and talking to people in person leaves a bigger footprint of information/experience in my mind and my retention goes way up. Some events can overload, however if you pick the right tracks and plan ahead you can minimize this."

Erin Palmer
Content Marketing Specialist
Suncoast Credit Union
"During a typical workday, we get pulled in so many directions. In-person events let us connect and be present in a way that can be difficult to achieve during the daily bustle of meetings, deadlines and general work craziness. Conferences are a chance to get fresh inspiration and make connections that can lead to long-term insight. I especially love learning about marketing efforts from industries that are completely unlike my own. It helps make for more creative ideas and strategy."

Dave Thackeray
Communications Director
Word And Mouth
"I only ever go to marketing conferences to meet new people and listen to their experiences. Those people never include the speakers, who are generally wrapped up in their own world and rarely give in the altruistic sense.

These are great insights with a common theme: despite our online connections and our feeling of always being connected and in tune with our community, we still benefit so much from seeing and learning from each other in person."
What do you think? Why do you attend in-person marketing events? How would you answer these questions?
Speaking of in-person events, Content Marketing World 2016 is under 200 days away, which will be here before we know it! We'll be in Cleveland September 6-9, 2016! BLOG100 saves $100 – would you join us? Register today! 
Posted February 26, 2016 in: Event by Cathy McPhillips
---