For the last two years, I begged to attend Content Marketing World. It welcomes several marketing and PR leaders I admire. And as a Cleveland native, it takes place in my backyard. But my request was always denied by management. Getting approval to attend conferences was not the problem. But as a community manager, I found it difficult to explain why I should attend an event not focused solely on social media.
But here's a little secret: Social media plays an integral role in content marketing. It's so important, that Marketing Director Cathy McPhillips and I are presenting a Content Marketing Institute case study at this year's CMWorld on social media integration with content marketing.
The event even has a dedicated social media track, and many sessions outside of the track have social media components.
If you are in a position that concentrates on social media, CMWorld can certainly provide the tools to help grow your brand. Here are my three reasons why Content Marketing World is important for my job as a social media community manager.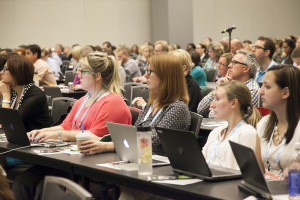 Break down silos
Content is clearly the first way members engage with a community. But as a community manager, you may not be a part of the content creation process. With key takeaways from CMWorld, you can bring ideas back to your team to make your content marketing strategy even stronger. Learn how to build a brand following with online video. Draw in new customers with Pinterest. Prevent a social crisis by becoming more knowledgeable on legal issues. The more you can help educate your team, the better your content will be. Having a more active role in content creation leads to a more enhanced experience for your community members.
Strengthen your love of storytelling
We all know it takes more than an interesting product to engage audiences. Stories help us connect deeper with our customers. And storytelling can come in all sizes – 140 characters to a 90-second video. There's a story in every step of the sales funnel, and social media provides a means to share that story. Some of the best storytellers will be at CMWorld. (I'm excited to hear Doug Kessler, Robert Rose and Ann Handley!) Heed their advice, take their actionable tips and explore their resources to advance your community management skills.
Extend your community
Communities are about relationships. As community managers, we are used to fostering relationships online. But there are many reasons to get up from behind our computers, tablets and phones and connect offline with our peers. Meet industry experts after sessions and during networking breaks. Bounce ideas off of other social media marketers at the opening night reception or Wednesday night's concert. Trade real-life stories and geek out with people who simply "get you." Use CMWorld as an opportunity to build relationships that will elevate your own communities.
Are you a first-time attendee? Do you concentrate on community building or social media for your job? Tweet me (@MoninaW) or connect with me on Linkedin, and let's experience CMWorld together! And, the next few Tuesdays at 12pm Eastern, join me and other community managers and content marketers on our #CMWorld twitter chat.
Haven't registered yet for CMWorld? Don't delay – there's just a few more days until the big event! Use code CMWSOCIAL for $100 off registration. 
Posted August 24, 2015 in: Event by Monina Wagner
---