Content Marketing World is part of the Informa Connect Division of Informa PLC
This site is operated by a business or businesses owned by Informa PLC and all copyright resides with them. Informa PLC's registered office is 5 Howick Place, London SW1P 1WG. Registered in England and Wales. Number 3099067.
Why #CMWorld is Important for My Role: Marketing Director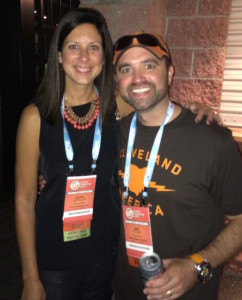 As Marketing Director at CMI, of course I'll be in attendance at Content Marketing World 2015. But, even if I was marketing director somewhere else, I still see tremendous value for someone in my role, and would find a way to get there.
Why?
Sessions from Leading Brands – One of the things I love the most is that a huge percentage of the sessions are led by people in the trenches – brand leaders who have written and documented their content marketing strategy, who have produced epic pieces of content, who have mastered analytics and acted on it to improve their marketing, and who have brought tangible examples with them to Content Marketing World to share with all of us. Every session I attend I'm diligently taking notes and will always walk out with at least one, "If we just tweaked that idea "this way," we could execute that at CMI for "this." ACTIONABLE is a word that is thrown around a lot with our team, but it's true. The sessions will include something actionable for attendees to take away and use in their own way.
Specific Sessions Matching My Business Goals – Right now, I'm focusing on increasing CMI's subscribers and building event attendance. That said, I want to make sure they're the right subscribers who find value and want to stick around, and in turn join us at our in-person events. Because of this, I'm most excited for Eric Shanfelt's Audience Building Strategies, Rick Neiman's Demand Gen, Sales & Enablement and Marketing Automation (guess what I'm focusing on in 4th quarter 2015??), and Andy Crestodina's The Chemistry of Content Measurement. While there are many others, these will really help give me some fresh ideas on things I could be doing differently in my role.
Networking! – Some of absolute favorite parts of the event are the networking breaks and evening activities. Two years ago at the House of Blues, I spent a good hour talking to Pam Didner about content marketing and various projects. Last year, I caught up with Jay Baer during our Ohio City Pub Crawl to talk about customer service and social media. This year I've already Skyped with Erika Heald about tools and technology and systems, so I can't wait to visit with her in person. Every year someone at the event – and usually it's not just one person – completely blows me away during a discussion and gets my wheels spinning and gets me excited to go back to work. In fact, Pam Kozelka busted me one day when she saw my face light up and I started clapping, and she walked over and said, "You're talking about Google Analytics, aren't you?" But truly, hearing someone's experiences or point of view or thinking that is a little different than yours can help you grow. I can't express in words the value of this time with industry peers.
Inspiration – By nature of being in marketing, even though I'm not the creative director (and thank goodness for that), we are a creative bunch. My role has a high level of creativity whether it is copywriting, or whether it's sitting in Google Analytics determining how best to look at the numbers from our website and goals. Listening to the keynotes each year – and not just those hailing from Hollywood – but Joe Pulizzi and Andrew Davis and Julie Fleischer and Scott Stratten and so many others – all leave me either invigorated after an hour of laughter, or emotional after talking about how content marketing is helping consumers, or curious to learn more about a particular topic. But most of all, I leave inspired. Inspired to work harder, work better, and genuinely work with our customers' best interest at heart. When I was in my 20s, I loved my job and loved my company and team, but always had this gnawing feeling that my job in marketing and advertising wasn't really benefitting humanity. Now, I feel that content marketing has given me that chance to help people – give them tools, resources, entertainment, education – that all markets to them (we are running a business, after all), but that truly is providing value. Listening to the keynotes helps inspire me to continue to do better.
Team Growth – With the marketing team growing, (at the time this is published, CMI now has an audience development manager – yay!)  I really love the fact that I can listen to a PR session with Gini Dietrich and know how I can help Amanda Subler, our PR and Media Manager. I listen to Social and Community sessions with Ian Cleary and Jay Baer and know that I can brainstorm with Mo Wagner, our Community Manager, on some fun and smart things we can be doing differently. And I can sit through the audience development sessions and know that John and I can sit down and revisit and tweak our email strategy because of what we've learned. Best of all, with all four of us from the CMI marketing team in attendance, we can regroup after the event and see what we all have learned. It's a great way to divide and conquer, so we can all pick up learnings and share with each other. Just like we want this for our attendees, we want this for ourselves as well.
I really hope marketing directors, VPs of marketing, marketing managers and beyond, all consider coming to Content Marketing World. It's a great event with 3,500 incredible people.
What questions can I answer for you? Email me if I can help.
There's still time to register! CMI100 saves $100 off registration, so do it today. Then, select your sessions that you MUST be in. They're starting to fill, so don't miss your chance. 
Posted August 10, 2015 in: Event by Cathy McPhillips
---
UP