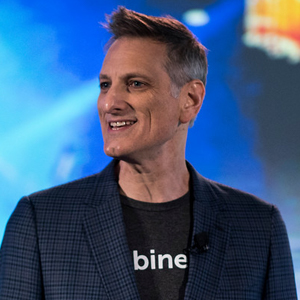 Editor's note: Content Marketing World welcomes Mark Bornstein as guest author of the post below. We appreciate his support of CMI and are excited for his lunch and learn at this year's event.
My life has not gone down the way I had thought it would. All I have ever wanted to be in life was a musician, writer and performer. And I definitely am all of those, but I never "made it". Not even close. I still make music and still occasionally get in the vanand play shows in various cities with my various bands, but my career is as a marketer. The stages I prowl these days are mostly at marketing conferences, seminars and webinars. I used to keep these two worlds separate, and secret, from each other, but now, suddenly, they are colliding.
Punk rock has been at the heart of the music that I love and the attitude that I live by. The term punk has been appropriated in a million ways but to me it has always meant, being true to yourself, having a DIY spirit, and having a natural distrust and disdain for inauthenticity. That spirit has also fueled my approach to marketing.
There are not a lot of places to turn for inspiration when you are a marketer, public speaker AND an aging punk rocker. When asked in interviews, or at marketing conferences, who my biggest influences are, I know they expect names like Ann, Robert, and Jay, but the names that pop up in my head are usually Johnny, Joe or Iggy.
And then there is Henry.
Henry Rollins is a unique creature, in life and in art. He was the lead singer in one of the most influential hardcore punk rock bands, Black Flag, and in many ways is the face of that musical form and attitude. He is also, now, a successful writer, public speaker, podcaster, actor and general interesting person. Henry has an intensity, drive and passion that can be daunting, but there is a humanity in his message that is undeniable. He has inspired me in countless ways and here is why I think he could excite and inspire you.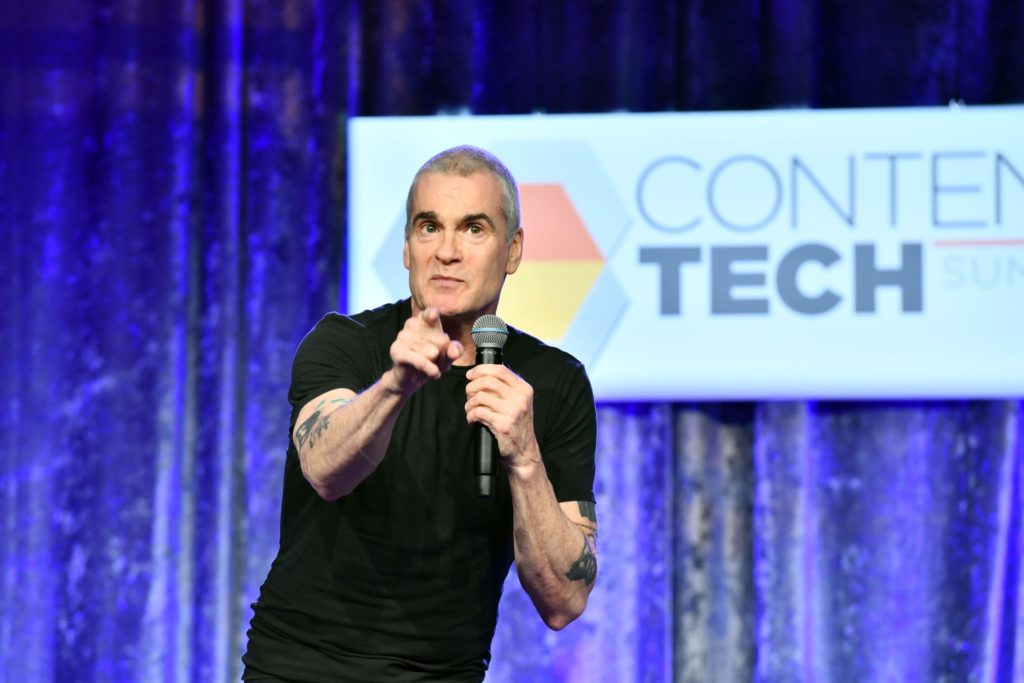 Let's start with music. Henry Rollins was the 4thand longest tenured singer of Black Flag. They were the standard bearers of a sub-genre of punk rock called "hardcore". The music was faster and more aggressive than bands like the Clash and Sex Pistols. The essence of hardcore was anger, disaffected angst, sometimes sardonic humor and a sense of anarchic comradery. A misfit brotherhood. Shows by early hardcore bands like Black Flag, Bad Brains, Circle Jerks, Minor Threat and Dead Kennedys were chaotic affairs, where "moshing" truly became a thing, and the audience was as big a part of the show as the bands were.
Henry Rollins scared the shit out of me. He brought a darker and much more confrontational energy to Black Flag and to punk rock in general. He was imposing and ferocious. Henry had no patience for poseurs and provocateurs at his shows. He forced you to get real with who you were and why you were there in the first place. Henry had, and still has, a bullshit detector that is highly calibrated. If you watch old videos of Black Flag shows on YouTube, you will see Henry dressed only in a tiny and tattered pair of black gym shorts, drenched in sweat, physically giving you everything he had; and when challenged by the idiots that inevitably came to the shows for the wrong reasons, he would call them out or straight up punch them in the face. Henry had a show to give, a message to deliver, an energy to share. Nothing would stop that.
What's the lesson here? Henry and Black Flag had nothing going for them. Think of them as a completely unfunded start-up with an incredibly disruptive product. The music industry ignored them, society reviled or dismissed them, and they had to build their business with their bare hands. But they believed in their mission and they worked harder than any other band out there. That commitment and energy would build a fanbase and a brand that lasts far beyond the music itself. Their logo, created by Raymond Pettibon, is one of the most iconic images of all-time and is still tattooed on the flesh millions of kids who were born long after the band broke up. They may not even be fans of Black Flag but that logo, those bars, stand for something. What Henry taught me back then was that in every element of life, it's important to question why you are there and what you believe. And when you do believe in something, giving it anything less than your all, is a crime against yourself and your passion.
The lesson continues
Flash forward from the mid 80's to today. I am now a content marketer, marketing evangelist and public speaker. Henry in the meantime, has long since retired from music and is a full-time writer, spoken word artist, podcaster, actor, interviewer and global reporter. If you haven't seen him speak, you will be blown away by his keynote at CMWorld. He brings the same punk rock intensity and passion to his speaking gigs that he brought to Black Flag. He is an amazing storyteller and a remarkable purveyor of truth. And, it's this part of his career that I probably find the most inspiring.
Here are some key lessons that you can learn from Henry Rollins in business and in life.
Find the story in everything. Henry travels the world to find stories from every corner of humanity and brings them to life in the telling. He doesn't concoct, over-dramatize or enhance; he knows that life is interesting enough. He can mesmerize with amazing stories about his storied past and his interactions with the people and places he has encountered throughout his journeys. But he can be just as interesting talking about making coffee that morning. He observes life with a keen eye and finds the narrative in everything. As content marketers we talk about the importance of the story. Anyone who writes content regularly knows that this is not always easy to do, especially given some of the types of product or industries you have to write about. This is a muscle that you constantly have to work out. A storyteller should always be collecting stories and finding a way to bring those stories to life.
Authenticity breeds trust. Henry is always Henry. You can tell he is never trying to be anything other than what he is. While he strikes an imposing figure (the greying hair has not tempered his muscles, ink, square jaw and frightening stare), he will be the first to tell you that he is largely motivated by fear. Truth is sort of what he does. You may be intimidated by him at first, but you ultimately know that you can believe him. Once you give him that trust, his message can find its way into the receptive parts of your brain. It is through trust that we can create connections. As marketers, we often get too hung up on trying to push our audiences in a specific direction. Whatever that "spin" is becomes our intent and once that happens, we have lost. We need to respect our audiences enough to know that they can sniff out spin, fluff, or just straight up BS. By finding ways to be authentically ourselves and build the authenticity of our brands, with truth and sincerity, we can create more meaningful connections with our audience.
Try everything. Say YES! When it comes to content channels, Henry Rollins has tried it all. From podcasts, to audio books, to radio, television and movies, Henry is always open to finding new ways to do what he does. He has hosted his own shows and has guested on countless others. He risks and has the courage to fail. We need to have that same attitude. Digital marketing offers more channels than ever to deliver great content experiences. And yet, many marketers play it safe. We deliver the same content in the same way, over and over again. The most successful marketing is the most daring and the most original. It's not enough simply to try a new channel, you have to make it uniquely yours.
Inspiration is everywhere. While arguably being one of the most recognizable figures in punk rock history, it would surprise you to hear a playlist from one of Henry's radio shows. Yes, there is punk. But you will also find jazz artists, noise, industrial goth, surf rock, garage rock, reggae dub and so much more. Henry is not a snob about musical genres and has a constant hunger to find what's good, not just what conforms to a specific content type. As marketers, we need to have that same hunger to find new content that inspires us and to not be so limited in our tastes.
Work harder. Henry is famous for being one of the world's greatest workaholics. He has pretty much given up what you and I would call a traditional lifestyle to simply work. All the time. Whether he is writing books, working out, building playlists, or prepping for a speaking event, Henry is always working.
It's a well-known story that Henry was working at a Häagen Dazs when he was asked to join Black Flag – a moment that changed his life forever. But after decades of success, across multiple industries, he will often say that he fears, at any moment, he will be forced to start slinging ice cream again, and that is what fuels his insane drive.
I too fear that everything could go away in the blink of an eye. As marketers, it's easy to relax our diligence to our craft and our mission. It's tempting to settle for the first words that come up when you are writing that next line of email copy. Maybe they are words that you have used before. Hey, why not just use that same phrase again? I think Henry would tell you that if you work harder, look at it from a different angle, give it more energy and sweat, that there may be a better way to write that email. To not settle for what's easy but to push yourself to find what's good, honest and compelling. By never settling, we do indeed get better. This applies to every element of life.
And so, when I found out that Henry Rollins would be giving a keynote at CMWorld, it suddenly all came together. The past, the present, and that punk rock attitude that could makes us all better marketers and better people.
Catch Henry's legendary intensity on the Content Marketing World stage. There's not much time to secure a discounted seat. Use code SM100 at checkout to save $100!
Posted August 20, 2019 in: Event by Monina Wagner
---