Editor's note: Content Marketing World welcomes Eric Gruber as guest author of the post below. We appreciate his support of the Content Marketing Institute. 
Studies have shown that 86% of content and messaging has no commercial impact on the buyer. That means only 14% of content and messaging is communicated in such a way to suggest a valid reason for a change – and it's leading to unresponsiveness.
For example, Sygma, an account that Schneider Logistics wanted as a client, did not see how they were under-served by their TMS (transportation management software) and their supply chain provider.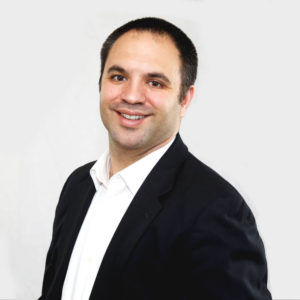 Even though sales and marketing were connected to the VP of Supply Chain, Sygma was unresponsive for 5+ years. Schneider began to create social conversations only after changing LinkedIn profiles, content and 1-on-1 messaging to focus on unconsidered gaps found in Sygma's supply chain and the operational, employee, financial and customer impacts. Because of the content shift and the stories on how Schneider uniquely filled the gaps for similar clients, Sygma pulled sales through the sales cycle and provided Schneider with a $2 million win. This is what happens when you have content that supports ABM and sales.
ABM content is not about lead gen
Account based marketing (ABM) is about winning, protecting, and expanding key accounts to provide the greatest revenue growth potential. In other words, it's about getting new accounts to revenue – and existing accounts to even more revenue. While ABM is not a new concept, recent studies from eMarketer showed only 17% of B2B marketers worldwide said their ABM program was mature and driving strategic growth. The other 83% mentioned that one of their biggest challenges is ensuring you have the right content for an ABM approach.
In reviewing content that organizations push out in social and email communications, I found that most content does not support ABM. It does not support sales in driving conversations and sales cycles with accounts that are stuck in status quo or in the funnel. It does not support account management and customer teams in their efforts to reduce churn, improve margin growth and increase customer lifetime value through account expansion. Here, you will learn about the content shifts and opportunities for growth that will enable marketing to increase its influence over revenue.
ABM content goes beyond thought leadership
While thought leadership marketing content that's created for lead gen can create access to high-value decision-makers (studies show that 47% of decision-makers share their contact info after reading thought leadership content), it tends to lead to a Request for Proposal (RFP). Almost half of decision-makers said they invite producers of thought leadership content to bid on a project when they had not previously considered the organization. However, most of our clients do not like RFPs because it becomes a price battle that limits margin growth.
Most articles and white papers that are created for the masses miss commercial insights that speak to specific gaps specific organizations have and the impacts it has to different divisions, ranks, individuals, and customers. They don't show how the gaps can only be filled by that organization and why the organization should not try to use internal resources or the competition to fix their challenges. In most cases, your marketing content is only providing free consulting that allows prospects to take free education, invite sales to the bidding process (along with your competition) and use the content to tell your competitors what they are looking for.
ABM content goes beyond top-of-the-funnel
While "marketing" is focused on filling the top-of-the-funnel with thought leadership content for the masses, they are missing the personal content that transitions prospects through their buying journey. They are missing the personal content and stories that keeps them away from the competition.
When I hear from leadership teams that they are challenged to close six and seven-figure deals and that their teams are taking a transactional sales approach, I look at their content. I find sales teams are left to their own devices to:
Reframe prospects thoughts and ideas.
Demonstrate relevance and make an emotional connection.
Build the business case.
Teach for differentiation – There is a difference between claiming your uniqueness and teaching where prospects come to their own conclusions on how you are different.
Move the prospects through the funnel to the close.
In most cases, content is designed to support campaigns vs. the "selling conversations" and "interactions" sales need to close accounts. If you're truly engaging in ABM, then content needs to originate from sales. Then after having a proof-of-concept and seeing the content impact first-hand, you integrate it into the broader marketing picture and campaigns.
ABM content goes beyond speaking to "personas"
When marketing focuses on campaigns with a focus on "personas", we typically react to general pain points. This is also the same information many traditional marketing firms base their strategies and approaches on. They are simply reacting and connecting pre-identified needs and wants with specific capabilities.The result is commodity content messaging and price-based conversations as competitors are also responding to the same insights with similar capabilities, just worded differently.
As a result, there is no differentiation. Urgency is not created leading to inaction. Just look at how many companies have disjointed IT systems and how few are making an investment for change. Those that do move forward are part of the 10% of the market that is already open to buying. It's this market that is differentiating on price and engaging in a reverse sales auction. Which vendor will give the most needed features at the lowest price?
Your buyers are human beings – not personas. So, the content needs to speak to the human buyers within the accounts you want to win, protect and expand. It needs to focus on their business problem, the root causes (gaps), and the personal impacts.
ABM content is personal – not just personalized
Some of the more advanced ABM organizations create content based on intent data focusing on in-market accounts, what they are searching for and where they are in the buying process.  While sales and marketing may be delivering a personalized experience – it's still not a "personal" experience that's tailored specifically for a particular company and its buyers.  You can 't have a personal experience when sales and marketing clump together ideal, in-market accounts that are in the same buying stage and deliver campaign/templated content and messaging based on general assumptions, pain points, challenges and "large" industry shifts.
As a result, sales and marketing are speaking "at" accounts versus "to" accounts and the human buyers within those accounts. They are failing to make a strong connection between their insight and the potential customer. You cannot make it personal unless you dig deeper beyond intent data and figure out:
"Why" is there intention in the first place and specifically what is their million-dollar headache?
What is going on in the organization and what is happening with the divisions, operations, customers, and the P&L?
What are the business objectives and what are the account-specific/competitor-specific gaps that will impact success? What are the gaps and challenges that stuck accounts are facing that they are unaware of – or they are under-estimating the magnitude of the issue and personal impacts?
What are the personal wants and needs of each buyer – what are they looking for personally?
Intent is the perfect place to start because you know there's real interest. But that's only the starting point otherwise you'll be talking "at" accounts versus "to" accounts and to the human buyers within those accounts.
I believe that the next generation of ABM will be about supplementing personalized experiences with a "more personal experience" that is focused on specific accounts that sales and marketing want to win, protect, or expand.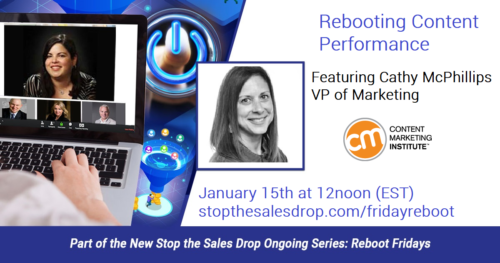 Join CMI's Cathy McPhillips, Content Marketing World speaker Ardath Albee, and PersonalABM's Eric Gruber for an upcoming "Reboot Content" panel, where they will discuss the content shifts that will better support account-based marketing and sales. Reserve your seat for free.
Posted January 6, 2021 in: Event by Monina Wagner
---