Content Marketing World is part of the Informa Connect Division of Informa PLC
This site is operated by a business or businesses owned by Informa PLC and all copyright resides with them. Informa PLC's registered office is 5 Howick Place, London SW1P 1WG. Registered in England and Wales. Number 3099067.
Why You Need a Good Editor: A #CMWorld Twitter Chat with Ann Gynn
We at Content Marketing Institute recognize the importance of a good editor. Our editorial team relies on our editor to spot inconsistencies in our content, style, and format. Our editor improves the quality of our blog posts.
But let's face it. Not everyone fully understands why an editor is needed. That's why we invited our very own editor, Ann Gynn, to join us for a #CMWorld Twitter chat. Ann recently wrote about the difference between editing and proofing and how each can improve your content. Plus, our team would be lost without Ann and her expertise.
What follows are a few responses from her chat. Want to see all of the tweets? Check out our Twitter Moment.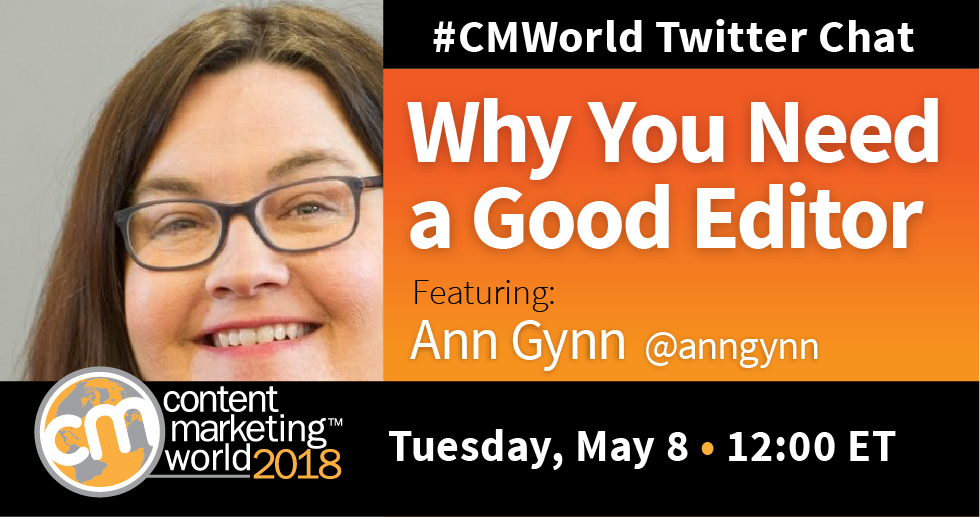 Do all writers need an editor? Are there instances when an editor is not necessary?
In the relationship between writer and editor, how can you balance the structural responsibilities of an editor and the creative voice of a writer?
Want to continue the learnings?
Comment on our LinkedIn Groupdiscussion on the role of editor.
Read Ann's posts on the CMI blog.
Register for Content Marketing World and follow our Writing/Content Development Track. Sign up by May 31 to secure Early Bird pricing.
Have a topic you would like to see covered on an upcoming #CMWorld Twitter chat? Leave us a message in the comments below.
Posted May 9, 2018 in: Event by Monina Wagner
---
UP