One of my favorite ways to connect with our community is through our #CMWorld Twitter chat. The chat began in 2013, the brainchild of CMI Vice President of Marketing Cathy McPhillips. The chat was a weekly get-together, connecting Content Marketing World presenters and attendees. Cathy built the community's foundation around speakers and their sessions. 
Since then, the CMI marketing team has grown, and I've come onboard. We still host discussions on content-related topics. We still introduce you to our speakers. We still encourage marketers to exchange ideas and resources. 
We're proud of what we've accomplished.
But in the last year, I've seen some changes in our chats. We're nowhere close to these numbers. The amount of people participating each week is dwindling. Compared to non-chat days, Tuesdays aren't driving higher reach. We're thrilled we can bring together marketers from around the globe. But the vast majority of engagement with our community is taking place outside the chat.
What's going on?
We took a hard look at our chats and asked ourselves a few questions.
Are we giving marketers something of value on Twitter?
We know content provides a benefit to the person who consumes it. But were our chats evolving with the industry? Did marketers find our topics to be relevant? Were we differentiating ourselves? 
Are we no longer shiny and new?
This one bruised my ego. There are a lot of Twitter chats out there. Some of my favorite chats, like #foodiechats, are thriving. And new chats, like #freelancechat and #digital360chat, are popping up. Were marketers bored with #CMWorld? Burned out?
Is there something we're missing?
I am not a risk taker. I am very comfortable with my routine. That carries through in my professional life. Until one day, I questioned if we were in a community "rut." Did we come to rely too much on chats? Were we not actively looking at other ways to talk with you? Oh worse yet, did you feel like we were ignoring you? 
What changes are going to take place?
The content marketer in me recognized we needed to make better, informed decisions. So I went to the people I trust: You and your fellow marketers. I appreciated the feedback on the current state of our community. Based on these conversations, we planned our next steps.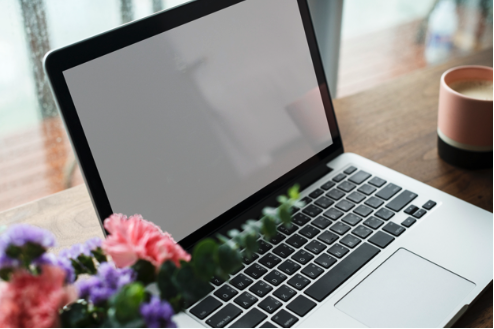 Twitter chats
These are not going away. They will remain on the calendar, every Tuesday at noon Eastern. We audited our chats and found what content resonated with you. As a result, we're now exploring high-interest, unique topics that better apply to your professional life.
We also examined chat tweets. We saw how special real-time connections are. So we're introducing community discussions. We tested this open forum concept last month, and the data surprised us. The chat performed well enough to land among our top five for reach in the last 14 months. Now, once a month, we're handing the mic over to you. Let's keep the conversations going with this new format.
Different platforms
We spent the last few months exploring various platforms to better serve you. During this time, we realized we already had viable options we could add to our existing strategy. 
Slack – In 2016, Berrak Sarikaya created a Slack channel to continue conversations started at the conference. Through Berrak's leadership, the group is still active. Today, she's giving CMI the reins. We're working with her to continue the vision she set forth three years ago, and add it to our comprehensive CMI community strategy and channel plan. Many of you are already on Slack, and we want in on the fun too!
LinkedIn Group– Had you asked a year ago, I would have said LinkedIn Groups were all but dead. Even with a robust membership, CMI's group fell victim to LinkedIn's algorithm. Like others, our group was largely forgotten about. Not one to quit, we gave the group one last shot. We implemented stricter guidelines by accepting conversation-only submissions; no links posted across multiple groups that added no value. We zeroed in on what conversations are important to members and asked more relevant questions. As we start 2019, we are seeing a 43% increase in the number of discussions over the same period last year.
Instagram Stories– We're asking a lot of questions right now. But what if the roles were reversed. Do you feel like you're talking to us and not just a social media handle? We're supporting a culture of transparency. Instagram Stories lets us get real. Team members are doing takeovers. We're giving more behind-the-scenes looks. And our "co-workers" are taking questions – no holds barred.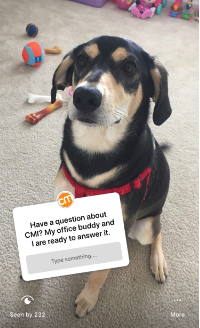 In-person meetups– If there's anything we've come to learn, our "internet friends" are as real as our offline friendships. Our chats have made in-person interactions special. You're never alone when you can recognize another person by their profile picture and handle. That's why we'd like to organize more in-person meetups. Technology hasn't killed face-to-face communication. In our community, it's enhanced it. We're huggers after all. Want to plan one in your city? Let us know how can help.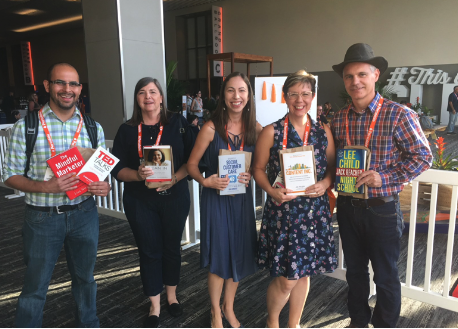 The Content Marketing World blog – Did you know we publish articles weekly on the CMWorld blog? Here, you can find:
Twitter chat recaps
In-depth information about the conference
General content marketing shenanigans (I mean, we did create a cookbook!)
We want to make the blog a social gathering spot. We want you to come back again and again. You've told us relationships are important. So there's no better way to connect the community than with member spotlights. We'll introduce you to fellow marketers then ask them to share their best tips and tricks. Look for these features in the coming weeks. 
How can you get involved?
We love this community. We enjoy networking and exchanging ideas. But we want more. Let's collaborate on dream projects. Let's commiserate about the problems we face. Let's serve the world around us.
Are you in? Then let's do this.
As we experiment with different ideas, we want honest feedback. Don't hold back. This isn't just CMI's community. It's your community. We look forward to growing with you. Here's to the future of CMWorld!
We'd love to see you at our September meetup. Register for Content Marketing World then drop me a line. I'll add you to our invite list! Or if you're ready to register now, use code SM100 to save an extra $100.
A huge thank you to #CMWorld friends Jeremy Bednarski, Linda Dessau, Heidi Duran, Erika Heald, Carmen Hill, Martin Lieberman, Gene Petrov, and Narmadhaa Sivaraja for helping jumpstart our community initiatives.
Posted March 4, 2019 in: Event by Monina Wagner
---