Content Marketing World is part of the Informa Connect Division of Informa PLC
This site is operated by a business or businesses owned by Informa PLC and all copyright resides with them. Informa PLC's registered office is 5 Howick Place, London SW1P 1WG. Registered in England and Wales. Number 3099067.
Worst SEO Mistakes: A #CMWorld Twitter Chat with Stephan Spencer
You try to avoid them, but mistakes happen. Then you wonder, is it possible to correct SEO mistakes? Stephan Spencer, co-author of The Art of SEO, says it is. Stephan says there are some common blunders content marketers make that can be fixed. He joined us on a recent #CMWorld Twitter chat to share some solutions.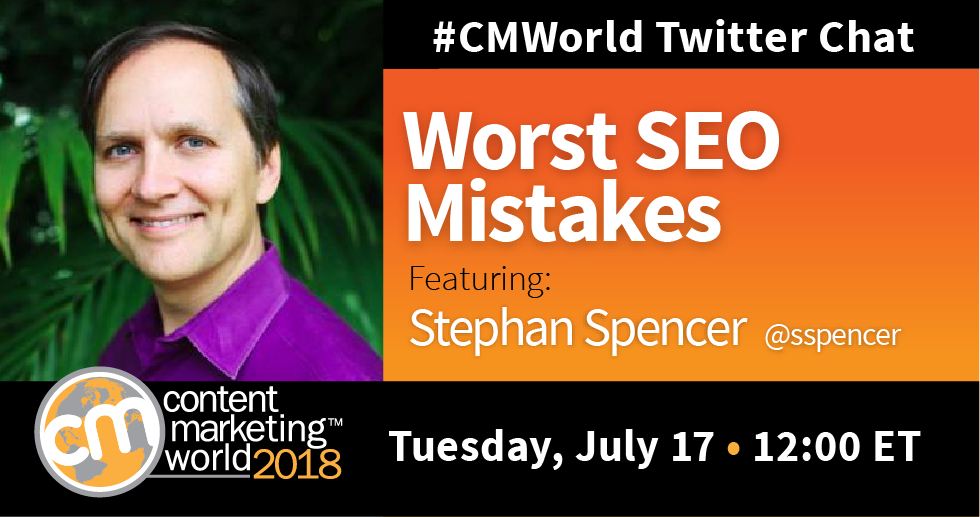 When looking to make improvements for better organic search results, what can you fix on your own? How will you know if it's time to hire an SEO specialist?
If you are buying a keyword phrase, is the performance from paid search enough? Do you still need an SEO strategy?
It would be impossible to put together a post that covered every aspect of search engine optimization. Fortunately, there are several ways marketers can stay in-the-know. First, check out our Twitter Moment for this chat. Next, you can bookmark these SEO resources our community suggests.
Experts
Articles and Blogs
Tools
What are your go-tos? Did we miss any of your favorite SEO resources? Let us know in the comments below.
Give your SEO efforts a boost. Learn from Stephan and other industry pros at Content Marketing World. Buy your ticket today with code SM100 to save $100 on your registration.
Posted July 18, 2018 in: Event by Monina Wagner
---
UP