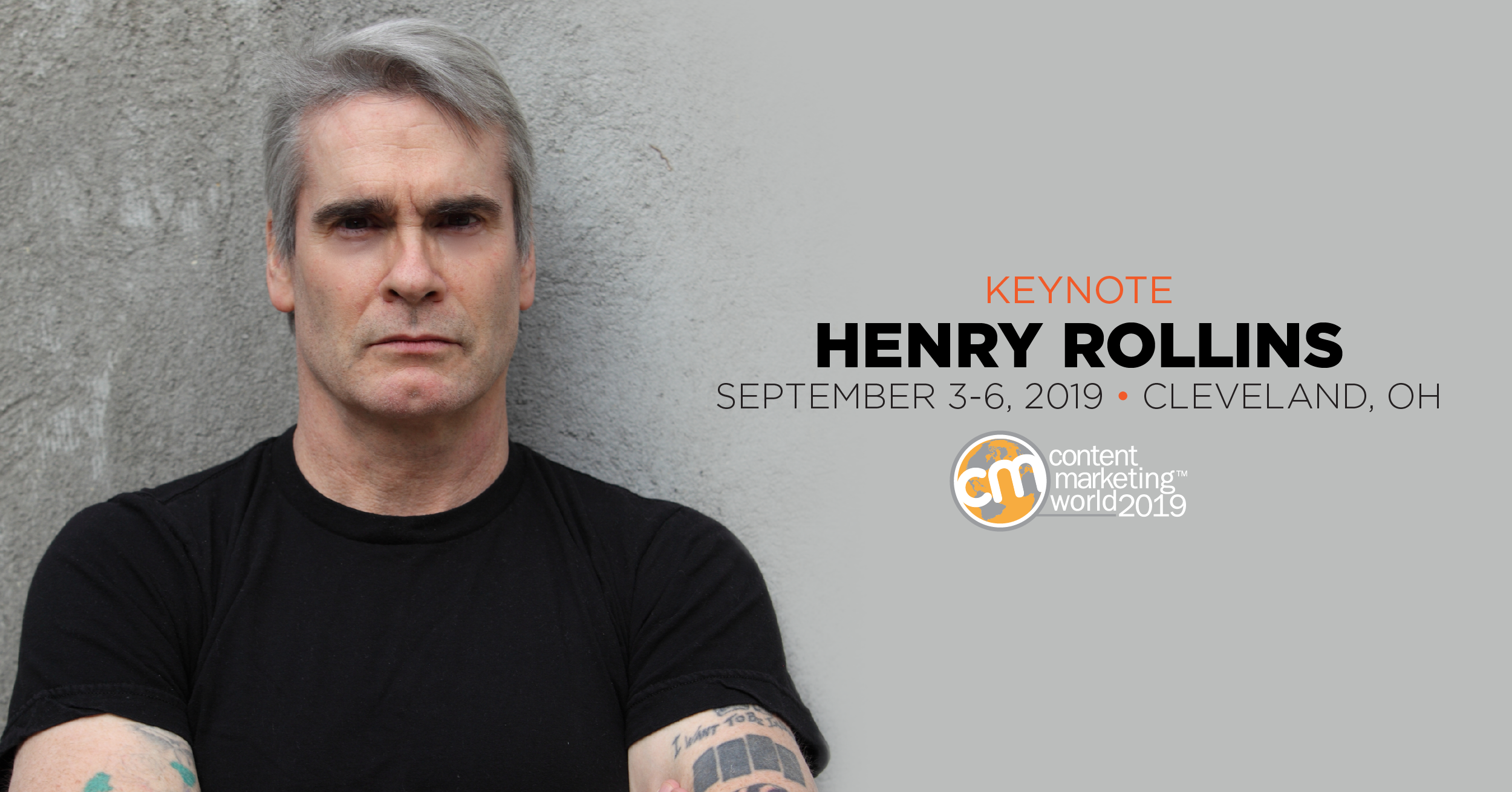 Take a minute to read these:
Truly one of the best, all-time speakers and speeches I've witnessed. The man is a juggernaut, in all the right ways.
More Henry all the time!
Amazing, awesome, incredible speaker choice!
This was the best surprise of the conference. Phenomenal speaker and super interesting.
Just wow. I can't even put into words how great the final 45 minutes was, and I'm a writer.
He was intense, and funny, and inspiring, and intimidating, and raw, and I loved every second of it. What amazing energy.
Very honest, genuine, relevant and unapologetic.
Bring Henry to Content Marketing World!
This is just a fraction of the incredible feedback we received from attendees at our ContentTECH Summit who attended Henry Rollins's closing keynote in San Diego this past April. Aside from this feedback in our event evaluations, we also received emails, phone calls, tweets and messages from attendees, speakers and sponsors about Henry's ContentTECH closing keynote and that our broader community should have the opportunity to learn from him.
We're thrilled to say that Henry Rollins will be joining us at Content Marketing World 2019 in September to close out our first main conference day. This is a keynote spot we slate every year for a speaker who goes beyond content marketing – who helps us dig deep inside ourselves to find our "whats" and our "whys," who inspires us to do better work, and who helps us find the extraordinary in the ordinary, as photographer Dewitt Jones told us last year.
For those of you who didn't attend ContentTECH Summit, here's a little about why Rollins is a great fit for our CMWorld community:
Aside from being a musician and punk rock icon, Rollins is also an actor, writer, publisher, television and radio host, comedian, activist, photographer, storyteller, podcaster, motivational speaker and so much more. TV Guide has called him a "Renaissance Man." The Washington Post says he's a "diatribist, confessor, provocateur, humorist, even motivational speaker…his is an enthusiastic and engaging chatter."
Over the winter, Rollins finished up this leg of his international tour the "Henry Rollins Travel Slideshow 2018," where he shared photos and stories from his adventures around the world throughout his career. A couple CMIers attended and were just in awe of his stories and his stage presence. He also hosts a weekly NPR radio show in L.A. You can find him on the History Channel's H2 network hosting the TV show, "10 Things You Don't Know About." In 2014, Henry received the prestigious Ray Bradbury Creativity Award in recognition for his lifelong contribution to the arts, his passion for social activism, as well as his intense passion for the importance of maintaining books and libraries.
"Henry Rollins clearly understands how to create engaging content. He has mastered storytelling in many forms, including, the spoken word," explains Stephanie Stahl, general manager, Content Marketing Institute. "We're thrilled to welcome him to our flagship event, Content Marketing World 2019. Our audience of content developers, marketing practitioners, brand storytellers, technologists, and industry leaders can experience first-hand his thought-provoking stories that will help us become more responsible content creators." As Rollins told us in April, we have a "moral responsibility" to the people who consume our content. "Commit to making everything you create matter."
Please join us in Cleveland this September 3-6, 2019, with over 4,000 marketers representing 60+ countries, 250+ speakers, and four days of learning, networking and growing.
Early bird registration ends May 31, 2019, so register today to take advantage of discounted rates. Plus, code BLOG100 saves an extra $100 off early bird rates. Plus, register 4 or more teammates together, and save 10% off. Looking for group rates of 10+? Email us.
Posted May 22, 2019 in: Event by Cathy McPhillips
---