Your audience is bored.
Not with you, per se, but in general. There's so much content pouring onto the web each day that numbness is setting in. If we want to truly delight, dazzle, and — above all — drive action with our customers (current and prospective), we must find new ways to earn their attention. Even high-quality content can fall short if it doesn't pop. As marketers, we need to think bigger. The stakes have never been higher.
At Content Marketing World 2019 — suddenly less than a month away!— rising to this challenge will be our central focus. Attendees will gain insight and inspiration from a reputable lineup of experts, entertainers, and trailblazers. Sessions, keynotes, and workshops will help you take your content strategy to the next level.
In particular, today's audiences yearn for memorable experiences that go beyond simple information delivery. Our content can meet this desire by including elements such as:
Interactivity
Video
Stunning Visuals
Gamification
Concise and Punchy Copy
Diverse and Authoritative Perspectives
To exemplify what this looks like, we partnered with our friends at TopRank Marketing to create a CMWorld preview featuring all of these aspects and more. So without further ado, step right up into the bright lights and enter The Greatest Content Marketing Show on Earth!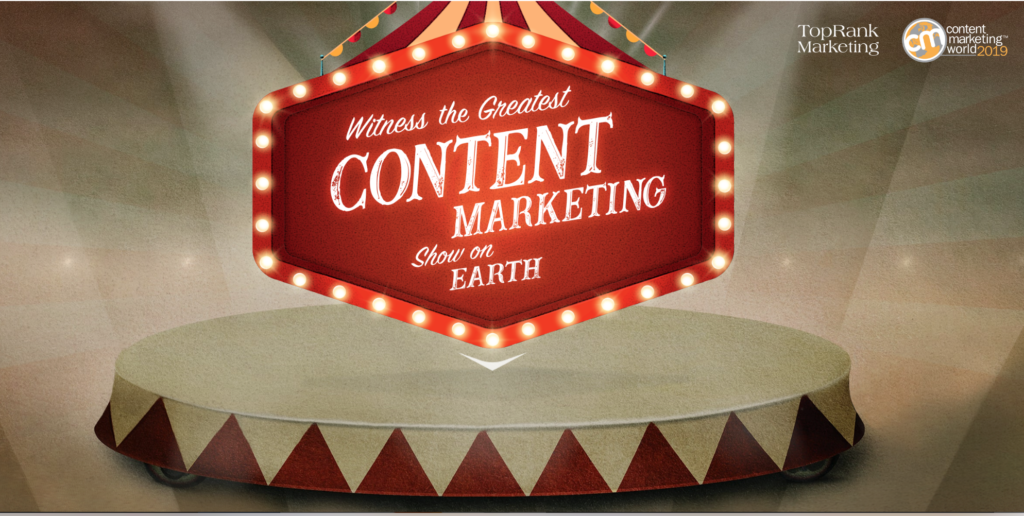 From setting the stage to gauging the crowd to elevating the experience and beyond, you'll learn how to create show-stopping content that amazes your audience, like a high-flying trapeze show or a bear riding a bicycle.
Following a special message from our ringmaster, Robert Rose, you can tap into thoughtful guidance from a wide variety of brand and agency marketers who are leading the way in this new era of immersive content experiences. Our playbill includes:
Amanda Todorovich, Cleveland Clinic
Courtney Cox Wakefield, Children's Health
Margaret Magnarelli, Morgan Stanley
Ann Handley, MarketingProfs
Michael Brenner, Marketing Insider Group
Tameka Vasquez, Genpact
Lee Odden, TopRank Marketing
Andrew Davis, Monumental Shift
Annie Granatstein, WP BrandStudio (Washington Post)
Jay Baer, Convince & Convert
Amisha Gandhi, SAP
Chris White, Capital One
In the battle against boredom, there's no time to waste! Come on in and enjoy the show. We'll see you at CMWorld from September 3rd through the 6th in Cleveland, where more dazzle and delight awaits!
Posted August 8, 2019 in: Event by Cathy McPhillips
---