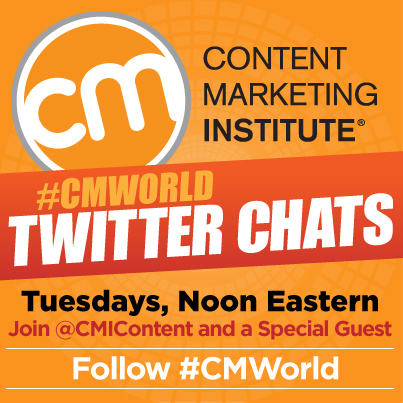 Want to discuss the latest trends in content marketing and get advice from some of the experts? Each week join CMI (@CMIContent) and a guest as we discuss key content marketing topics. Simply follow #cmworld on twitter to join the conversation. All chats are on Tuesdays from 12 PM – 1 PM ET:
6/13/2017: Gaining attention with video with Amy Schmittauer (@schmittastic)
6/20/2017:  Creating a content marketing team with Michele Linn (@michelelinn)
6/27/2017: Social media day! – Chat topic upcoming
7/4/2017: Independence Day (U.S) – No Chat
7/11/2017: Purpose-focused content marketing with Russell Sparkman (@fusionspark)
7/18/2017: Adding live events to your content marketing with Rachel Wimberly (@TSNN_Rachel)
7/25/2017: Coming up with content ideas with Michelle Park Lazette (@mp_lazette)
8/1/2017: User generated content with Jessica Ann (@itsjessicann)
Tweet us at @CMIContent for speaker suggestions or topic ideas for upcoming chats. We would love to know what interests you and who inspires you!
Archive of past chats: