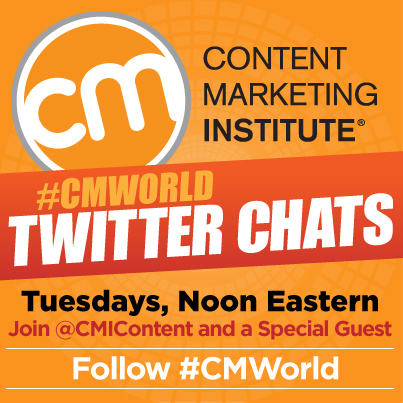 Want to discuss the latest trends in content marketing and get advice from some of the experts? Each week join CMI (@CMIContent) and a guest as we discuss key content marketing topics. Simply follow #cmworld on twitter to join the conversation. All chats are on Tuesdays from 12 PM – 1 PM ET:
07/05/16: The intersection of journalism and content marketing with Cameron Conaway (@CameronConaway)
07/12/16:  Team Retreat – No #CMWorld Chat
07/19/16:  The State of Content Marketing – 150th Chat with Joe Pulizzi (@joepulizzi)
07/26/16:  Getting more from your (small) team with Vishal Khanna (@bediscontent)
08/02/16: The Human Economy & content marketing with Bryan Kramer (@bryankramer)
08/09/16:  Becoming a better writer with Ann Handley (@annhandley)
08/16/16:  Using global insights to produce content marketing gold with Tim Hayden (@thetimhayden)
08/23/16:  Content marketing agencies with Lee Odden (@leeodden)
08/30/16:  Making the most of an event through apps with Laura Kozak (@lalakoz)
09/06/16: No Chat Today – follow the #CMWorld hashtag all week while we are at Content Marketing World!
09/13/16: CMWorld Post-Event Chat with Cathy McPhillips (@cmcphillips) and Michele Linn (@michelelinn)
09/20/16: Content repurposing:  What you may be doing wrong with Steve Farnsworth (@steveology)
09/27/16: ROI of branded storytelling with Jacob Warwick (@jacobwarwick)
10/04/16: Setting up your content marketing team with Maureen Jann (@maureenonpoint)
Tweet us at @CMIContent for speaker suggestions or topic ideas for upcoming chats. We would love to know what interests you and who inspires you!
Archive of past chats: