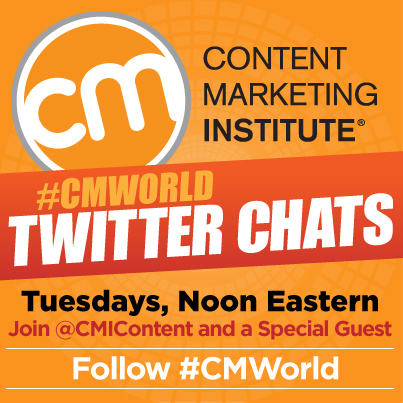 Want to discuss the latest trends in content marketing and get advice from some of the experts? Each week join CMI (@CMIContent) and a guest as we discuss key content marketing topics. Simply follow #cmworld on twitter to join the conversation. All chats are on Tuesdays from 12 PM – 1 PM ET:
10/18/2016: Applying content marketing to the employee audience with Carla Johnson (@carlajohnson

)

10/25/2016: How brands can leverage digital content to promote off-screen action with Katherine Lisciani (@millennovator

)

11/01/2016:  How to teach content marketing to your internal teams with Drew Eastmead (@dreweastmead)
11/08/2016: No Chat Today – Election Day 
11/15/2016:  Speaking and your personal brand with Tamsen Webster (@tamadear)
11/22/2016:  Marketing Automation with John Hanson ( @jphautomation)
11/29/2016: Cause-based marketing with Amanda Hite (@amandahite)
12/06/2016: Content marketing careers with Margaret Magnarelli (@mmagnarelli)
12/13/2016: 2017 Content Marketing Predictions with Joe Pulizzi (@joepulizzi)
12/20/2016: Happy holidays! No #CMWorld chat today
12/27/2016: Happy holidays! No #CMWorld chat today
1/03/2016: Happy holidays! No #CMWorld chat today
Tweet us at @CMIContent for speaker suggestions or topic ideas for upcoming chats. We would love to know what interests you and who inspires you!
Archive of past chats: