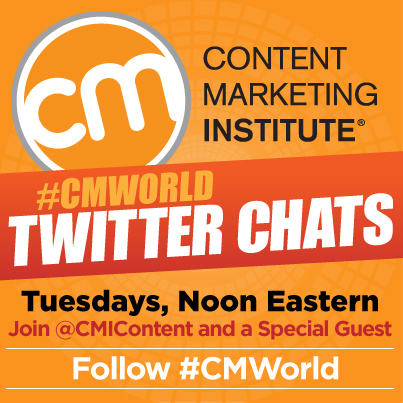 Want to discuss the latest trends in content marketing and get advice from some of the experts? Each week join CMI (@CMIContent) and a guest as we discuss key content marketing topics. Simply follow #cmworld on twitter to join the conversation. All chats are on Tuesdays from 12 PM – 1 PM ET:
11/14/2017: Content that gets you links with Steve Rayson (@steverayson)
11/21/2017: Role of a data scientist with Katrina Neal (@katrina_neal)
11/28/2017:  How to become a better writer with Kim Moutsos (@kmoutsos)
12/5/2017: Video Production 101 with Jeff Julian (@jjulian)
12/12/2017:  2018 Predictions with Joe Pulizzi (@joepulizzi)
12/19/2017:  No #CMWorld chat today
12/26/2017: Happy holidays! No #CMWorld chat today
01/02/2018: Happy holidays! No #CMWorld chat today
Tweet us at @CMIContent for speaker suggestions or topic ideas for upcoming chats. We would love to know what interests you and who inspires you!
Archive of past chats: