Evolve Your Content and Marketing at CMWorld 2023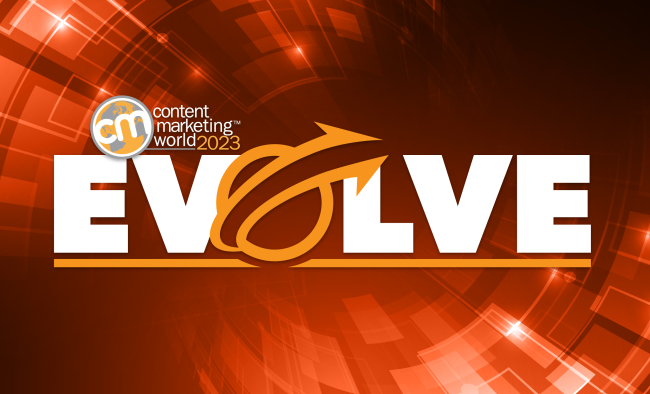 "I always thought the term 'content marketing' would become part of 'marketing' more broadly. In 2023, that happened. Content marketing is just good marketing, and marketing is just good content marketing."

This quote from Robert Rose, and his take on the state of content marketing in 2023, reminds us how content marketing has changed over the years. While content first started as a niche aspect of marketing, it's now the core of an effective marketing – and broader business – strategy.

With that transformation comes more complexities for those of us charged with strategizing, creating, and managing content. And more pressure to make content marketing a scalable, repeatable, measurable function that drives value for our business.

Tackling these challenges means exploring new approaches and adopting fresh perspectives. That's why we chose this year's theme as Evolve. Because when you join us at Content Marketing World, you'll find the expertise, ideas, and inspiration to:
Evolve Your Strategy
Content no longer just affects your marketing strategy, but your overall business strategy. At CMWorld, you'll get the tools and advice to move beyond the "we've always done it this way" mentality and leverage content to grow your business. 


Evolve Your Storytelling
A compelling story has the power to bring our content and brands to life. Whether you're learning in a session or chatting with fellow attendees, you'll find inspiration to tell your stories in new ways that connect with audiences and create meaningful experiences.


Evolve Your Career
When you attend CMWorld, you become part of a community of thousands of content creators, marketers, communications pros, creatives and more. You'll build new connections and friendships, unlock opportunities, and get the knowledge and support to feel rejuvenated in your career.

And if you're a past CMWorld attendee, get ready for an exciting and new experience as we gather in Washington, D.C. this year. You'll find the deep learning, connections, and fun you've come to expect from CMWorld – all in the backdrop of a city filled with new adventures.

We can't wait to see you there!

Registration is now open and early bird rates are in effect through July 14, 2023.